46664 Fashion 2012 winter range!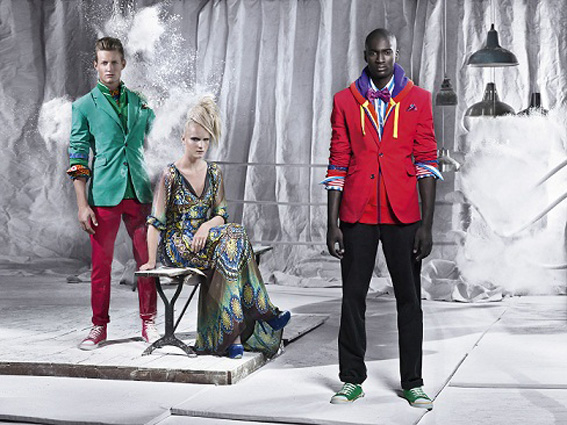 46664 Fashion is going the distance with a knockout, one-of-a-kind print campaign for its Winter 2012 range. Conceived by Cape Town's Graphic Ballroom, the campaign is inspired by former president, Mr Nelson Mandela's passion for boxing – and the imagery used reflects the 1950s era when Madiba would rise early to do battle in the ring. A key aspect of the campaign was creating the sets and props that lend historical authority within a thoroughly contemporary context. Cape Town set designer and prop stylist, Anna Verloren van Themaat, together with her husband Reep Verloren van Themaat, was responsible for recreating several iconic '50s boxing items for the shoot, including the full-size canvas punching bag and training mats.
"There were a few bruises and bumps along the way because of the heavy materials we were working on. But it was immensely satisfying to be able to recreate items that were so much part of Madiba's life as a boxer," van Themaat says. "The biggest challenge was to capture the idea of mixing Nelson Mandela's life with fashion in such a way that it both retains the integrity of that life and also translates into fashion, in a proper way," confesses van Themaat. To ensure the shoot didn't go the way of simply mimicking 1950s-style portraiture, the designer undertook a great deal of research into the sport in the era – in particular the boxing ring, and the paraphernalia surrounding it.
The boxing gloves and chair were sourced at vintage outlets in Cape Town but for the most part, the items were hand manufactured. Reep's gift at working with leather and other unusual materials came to the fore in the creation of the boxing bags, ring corner and locker room "bed". Anna herself made the training mats and the backdrops – the latter using toweling fabric (and more than 20 litres of paint!) to give a very unique, evocative texture. It was also imperative to get the iconic boxing dusting powder at just the right consistency to convey the energy and flow of a fistfight in the ring. "Sometimes we had to make a McGyver-type plan," she says of the limestone that's a feature of the campaign. "But for me it was very gratifying and rewarding in the end and the team involved certainly brought something special to this amazing shoot."
In the end, 46664 Fashion's latest print campaign and Winter range pay tribute to the man who was a humanitarian, above all else – and who gave his Robben Island prison number (466/64) for a social justice campaign that 46664 Fashion is now proudly an extension of. Said Wayne Bebb, CEO of Brand Identity; "Once again the involvement of such wonderful talent was inspired by the incredible connection everyone feels to the 46664 Fashion Brand."
Facebook Comments