9thWonder back in SA with Rapsody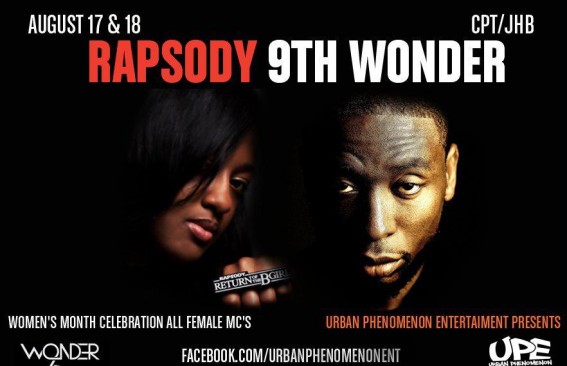 9thWonder and Rapsody and other members of the Jamla Army will perform live in South Africa in recognition of the Women's Month celebration. Along with Rapsody and the Jamla squad, the show will also be composed of South African Female MC's and Female DJ in August. Rapsody is the new force in hip hop, and she's blazing the trail for a new generation of emcees, showcasing effortless lyrical mastery in an age of celebrating the culture of a hip hop renaissance. She is the protégé of Grammy Award-winning producer 9th Wonder, the first lady of North Carolina super crew Kooley High, and one of the first artists signed to Jamla Records/It's A Wonderful World Music Group. She is an emcee who represents hip hop culture beyond the lines of gender, proving that anything the boys can do, she can do, too, and better.
Her virtuosity and dexterity behind the microphone highlight her presentation, and her humble demeanor attests to her constant pursuit of improvement with every beat and rhyme. Rapsody made her solo debut on December 7, 2010 with "Return of the B-Girl," a 20-track project boasting production by 9th Wonder and DJ Premier among others, as well as features from Big Daddy Kane, Mac Miller, Skyzoo, Rah Digga, Phil Ade, and more. Rapsody has shared the stage with hip hop legends and rising stars alike, including Raekwon of the Wu-Tang Clan, Big Daddy Kane, J. Cole, Wale, Colin Munroe, Tanya Morgan, Suede of Camp Lo, Blu and Exile, and The Clipse, but it's her ability to captivate diverse audiences with her explosively dynamic live performance that sets her apart and has earned her much-deserved accolades from major media sources including Vibe, XXL, HipHopDX, and more. She has captivated audiences at sold-out performances at dozens of venues on The Incredibly Dope Tour with Mac Miller and the Mic Fest Tour with 9th Wonder and her Jamla Records label mates. In her sophomore project "Thank H.E.R. Now," she weaves more intimate stories of her personal experiences and shares the studio and soundbooth with heavy hitters Jean Grae, MURS, Raekwon, Estelle, Big K.R.I.T., Marsha Ambrosius, and more.
Facebook Comments