Last week Friday Kabza and Maphorisa gave us the most anticipated project of the second half of the year, The Return Of The Scorpion kings.
After months of teasers and guesswork, we finally have the actual project and we had a weekend to sit down listen and digest it within the little time we had it for. Over the few months, we have speculated as to what we should expect from the much-anticipated project and the pair have been extremely secretive about the project not let to much detail leak out into the public over the months.
Tastemakers Kabza De Small and DJ Maphorisa have released a colossal amount of music since the year began. They put Amapiano on a higher plateau with the release of Scorpion Kings earlier this year, which will forever be a talking point where Amapiano is concerned. A project paralleled by no other but itself when it comes to the impact and rippling effect across a single genre.
We love Scorpion Kings for its ability to entice dance in us and now with The Return Of Scorpion Kings, we are loving it for its listenability and musicality.
The Return Of The Scorpion Kings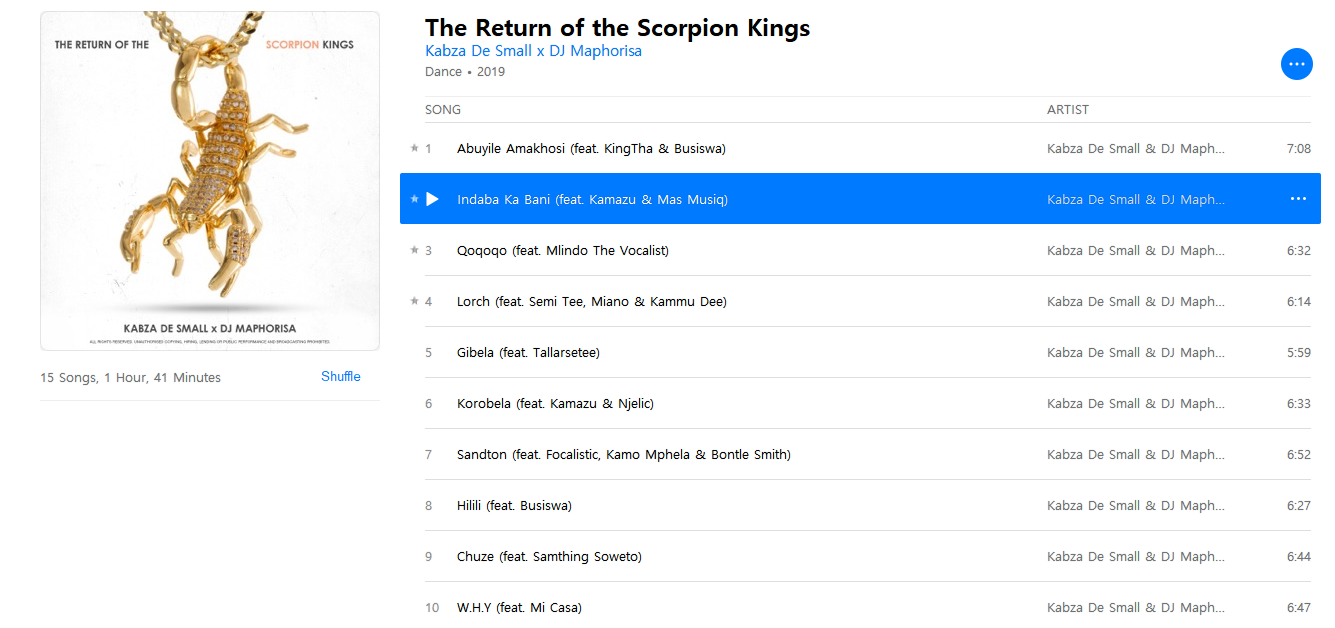 The Return Of The Scorpion Kings is a musically sound project that is different in many ways to the previous Scorpion Kings. The previous project was dance-orientated and was filled with dance floor hits from top to bottom. The Return Of Scorpion Kings, on the other hand, is focused more on the instrumentation, the intricate basslines more than the dance element. Clean is almost an understatement to the graft the was inserted to this project.
The project opens is arms to embrace you with the warm voice of Thandiswa Mazwai alongside the bold Busiswa. A track the declares the return of the Kings and invites all South African tribes to come, witness.
The project also serves as a time capsule that embodies long forgotten tracks of the early 2000s. A trend that is currently sweeping through the genre. Fusing old-time classics with contemporary Amapiano beats to bring them back to life. Moreover, we appreciate the return of the trio (Njelic, Kabza, and Maphorisa) to bless us with the Bubblegum infused "Korobela" track. Originally performed by Kamazu Korobela was a big hit in during the late 80s and early 90s a song that most might have forgotten of.
The pair also tastefully pay homage to our late king of jazz Brah Hugh Masekela in the track Kwaguqa. This is one of the first and few post-humous features from Hugh Masekela and we are happy that they did justice to it. All in all, we are excited and impressed with the delivery of The Return Of The Scorpion Kings.
The Return of the Scorpion Kings is available for download on Apple Music and free download on fakaza.