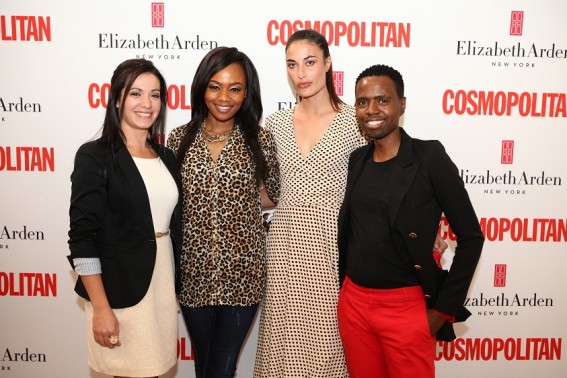 Miss  Elizabeth Arden herself said, "To be beautiful is the birthright of every woman,"and for the 100 women who attended South Africa's Biggest Beauty School, they found out exactly how right she was. Hosted in conjunction with Cosmopolitan Magazine, Elizabeth Arden took over the popular Fountain Court in Sandton City on Saturday the 5th of May, where the brand's leading celebrity makeup artists, Gina Myers, Melissa van Zyl and Nthato Mashishi demonstrated the perfect way to create the most desirable, flawless looks.
Excitement filled the court as the 100 women armed with headbands, makeup brushes and mascara wands absorbed every word of the amazing Elizabeth Arden celebrity makeup artists, as they guided the women through the very basics of the correct skincare regime to choosing the right kind (and shade) of foundation for your skin type and not to forget experimenting with some truly incredible makeup colours.
The gorgeous Azania Ndoro was the MC for the Beauty School and ensured that everyone who participated, as well as the hundreds of onlookers, enjoyed every moment of exploring the world of Elizabeth Arden, especially as the women transformed their personal canvases into some remarkable day and evening looks.
"I truly believe that beauty is ones sense of reflection. Whether the women have walked away today with a glam or natural look, I have no doubt that the Elizabeth Arden team have instilled a sense of personal power. It is all about taking pride in yourself and taking care of your skin, which will ensure that you look and feel beautiful. We hope that everyone enjoyed and learnt from the beauty secrets that we shared," commented Nthato Mashishi.
Some truly glamorous looks came from leading celebrities XXXXXX and XXXX who were also in attendance.
 "As a brand we are passionate about making beauty accessible to all women, and strongly believe that makeup should enhance your natural beauty," commented Janine Fernandes, Brand Manager for Elizabeth Arden. "Elizabeth Arden is a brand that is on the cutting edge and believes that even your colour makeup needs to have skincare benefits to enhance your glowing skin. Not only is today about exploring the world of colour with nourishing benefits whilst having fun, but it is about inspiring, educating and connecting with women. Our celebrity makeup artists truly made it an interactive day, with women helping each other as they all achieved a flawless, front cover look."
Armed with a perfect look, before and after pictures and not to forget a goodie bag to go and practice their new found skills at home, everyone was a buzz as South Africa's Biggest Beauty School closed its doors until September.