AKA is hoping to feature Nasty C, A-Reece, The Big Hash among many others on upcoming album
Earlier this morning, Mega tweeted a wish list of features for his forthcoming fourth studio album and if what he says is followed up, we should be in for an interesting Summer.
Following hot on the heels of what was supposed to be his third and last album, Touch My Blood, AKA's forthcoming album is the talk of the town. Mainly because he has been sharing snippets of the progress so far but also because there is a sense of curiosity around where he will take the sound and message of the body of work. In addition to this, his excitement is palpable.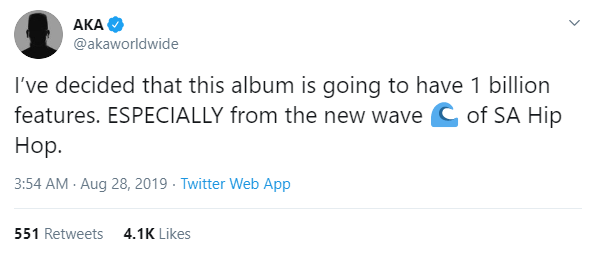 While not divulging much about what he's worked on so far apart form a few snippets he has shared on social media, he affirms that the quality of the sound is going to be top notch. This of course goes without saying considering that Touch My Blood was possibly one of the best sounding albums of 2018- something we may get into in a different article.
Supa Mega's album could be a celebration of the existing generations in SA Hip Hop
What peaked our interest in all the tweets he posted was the possible features he was thinking of adding to the album. He listed at least 10 artists including Willy Cardiac, J Molley, Emtee, Shane Eagle and A-Reece to name a few. The range is from the new-age "Soundcloud" rapper to the award winning and established rappers including a few of his "fave OGs".
The versatility of these artists may take this album from being an AKA project to being a "mixtape" of some sort and that's cause for concern.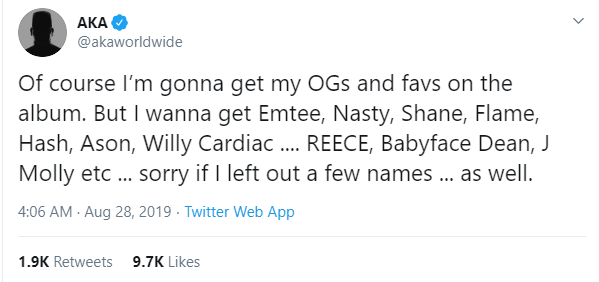 But we digress. Hip Hop is an extremely collaborative genre with great importance placed on pairing people who typically wouldn't work on the same song together. And what consistently makes this genre one of the fastest growing in the country is that artists are constantly finding ways to work together to create dynamic art.
If AKA successfully bridges the gap between a Shane Eagle, Emtee and Willy Cardiac for example then this album could be critically acclaimed. It could be a testament to the power of collaboration. And of course the numbers could do miracles at keeping Supa Mega's reign at the top consistent. Think about it.