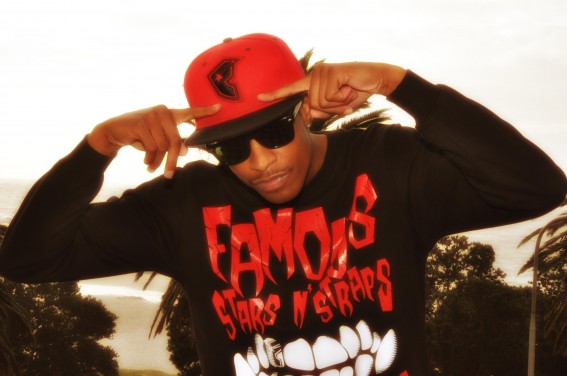 Rush's long journey to hip hop stardom is starting to pay off. This multi-talented producer / songwriter / rapper is no stranger to the music industry having caught the attention of a producer in Los Angelesback in 2003. Since then Awgust has scored songs in motion picture movies, collaborated with major label artists, as well as performed live at numerous celebrity events in the States and in South Africa. Highlights of his career have included performing on the soundtrack for a FOX motion picture "Gas" which featured top model Tyson Beckford and rap star Sticky Fingers as well as Flex Wilson. Rush also co-wrote and performed the theme song for The Big Black Comedy Show another FOX production and DVD series hosted by American comedic icon Monique, the lead actress of the hit sitcom "The Parkers".
Having fallen in love with South Africa and moving here permanently in 2004, Rush makes his home in the North Coast of KZN. More recent achievements including his performances at the Durban July every year since 2008 and his colab with Jozi's Ishmael. The music video for "Music With Your Body" landed on Channel O, Vuzu, SABC1 show Live and Mtv Base. Most recently Rush performed with Jay Sean and alongside Ferdy Ferd opening for Lil Wayne on his South African tour.
With his debut album, "Addiction" soon to launch, Awgust can trace the musical roots of this album from way back in his past. His genuine love for music started long before his 2003 successes partly due to the fact that he is the son of one of the former band members of a well-known 1970 Chicago R&B group "The Legends.
 Music is in Awgust Rush's veins having grown up around keyboards and guitars, drums and microphones. Rush songs reflect this strong musical heritage and his lyrics are personal and accessible. Most often rappers are associated with hardcore lyrics and rebellious messages, however not this one.
The topics Rush touches on his new album "Look" due to release in March of 2012 are universal and can be related to by all. "I make music for everybody," says Rush, "I do not discriminate, and I do not intimidate. Words are the most powerful weapon on the planet, I feel like music plays a very important role in every society and violent music leads to increased crime rates, so I decided to do take the opposite route my motto. Less Violence and More Partying." Spoken like a true role model.
Rush's first single and video off the new album, "Bunny Jump" is a celebration of life here inSouth Africa. The incredibly catchy song is accompanied by its own dance and a video that needs to be seen to be believed. Filmed on location inCampsBay,Cape Town the video shot and directed by Mohamed Moolla is a sexy and stylish introduction to this rising star.