EXCLUSIVE: Ayanda Thabethe's Glamourous Trip to NYFW in Collaboration with Maybelline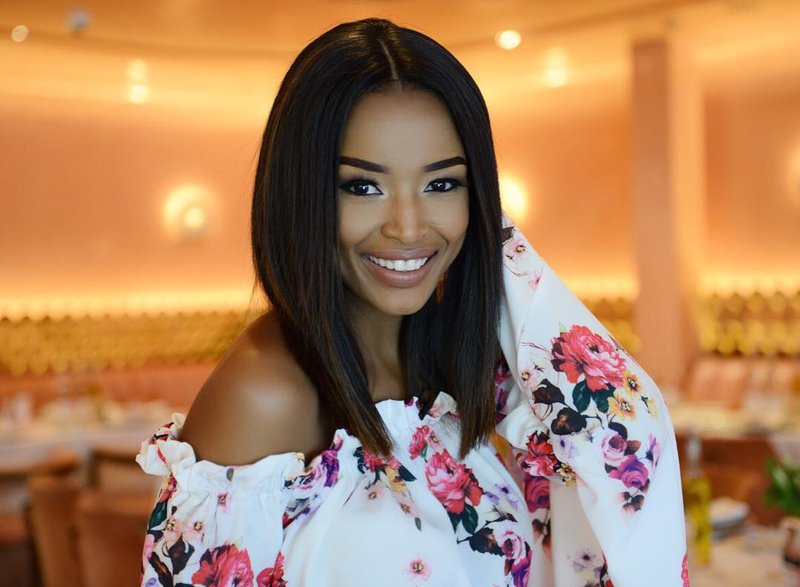 We caught up with the gorgeous fashion and beauty influencer Ayanda Thabethe in an exclusive interview of her experience at this year's New York Fashion Week. Thabethe represents South Africa as part of Maybelline's collaboration with influencers from 30 different countries.  The collaboration is in celebration of Maybelline's 10-year standing as an official makeup sponsor of New York Fashion Week.
So how did you prepare and get ready for New York Fashion Week?
"A lot of reading and researching on key trends at the moment and New York's typical street style fashion"
In preparing for this glamorous event, can you take us through a rundown of the vision behind all your gorgeous outfit and makeup choices?
"I wanted to depict a differentiated side of my fashion sense by incorporating a lot of edge into my pieces without losing that simple understated elegance that is authentically me. So I went with fresh, illuminating skin focused makeup but with a focus on one feature either eyes or lips for a pop of culture. My fashion choices explored clean lines, pop of colour and street-focused style – it is New York after all. It is all about edge and is less whimsical than other fashion capitals. "
Do you have people helping you to prepare and if so who is involved in assisting you with what?
"I'm so passionate about my display of what is proudly and authentically my take on New York fashion that I wanted to play with ideas on my own this time around so anyone who is glued on my Instagram can get a feel of what I am really loving this summer/spring"
Once you get there in the business of it all, can you describe the atmosphere of the experience, from outfit changes to papparzzi to getting to your next show, what was it like?
"New York is known as the city that never sleeps. The concrete jungle. It is an atmosphere that is buzzing, everyone has somewhere to be and things to do. It is rushed but in a go-getter kind of way. You cannot help but be inspired and want more for yourself. Fashion week is a key focus point in an already fast-paced environment which makes it manic – you almost feel like you want to rewind certain moments because everything happens so fast."
What are some of your favourite trends from this season?
"I love the focus of inclusivity in a lot of shows that featured plus-size models, moms and ordinary – everyday people, that was exciting. In terms of makeup; good skin is in with a pop of colour and I am obsessed with that because no one wants to spend countless hours in front of the mirror in summer where there is so much to do. Less is more for sure."
Looking at the street style, who is your style icon and why?
"I love Zendaya. She has the ability to switch it up constantly and manages to keep us glued as to what her take in style will be next. She can wear a suit equally as well as she can wear a ball gown and that's impressive."
Of all the shows you went to, who was by far your favourite designer and why?
"I must say Naeem Khan totally impressed me. The Zaha Hadid building was the perfect setting to showcase New York's architectural excellence and its remarkable skyline and the dresses showcased innovation that was both classic, playful and edgy – a hard combination to get right by any standards."
In between all the outfit changes and the stress of trying to get to the next show on time, what beauty tips and tricks can you recommend to ensure that one is always looking snatched while on the go?
"Stick with what works for you. The one thing I love the most about New York is the tunnel vision focus that everyone has about who they are and their individual identity. If you know who you are and focus on what makes you feel the best about yourself, you will always effortlessly slay. A makeup tip I do have is to use a lip colour that stays for the whole day and that keeps your lips moisturized because you do not have much time to switch up makeup looks. I really loved the super stay crayon ink from Maybelline. A must-have for any girl on the go."
Moreover, in attending all these exclusive after parties, who did you meet that completely gave you an absolute starstruck moment and why?
"Meeting Gigi Hadid at an exclusive event of only 15 people from around the world and getting to connect with her on a human level was a pinch worthy experience."
Just to end it off, what was the best moment from the entire experience?
"The whole experience was one for the books! I cannot single out any one moment. I see why New York City is the hub and birthplace of Maybelline"
Facebook Comments