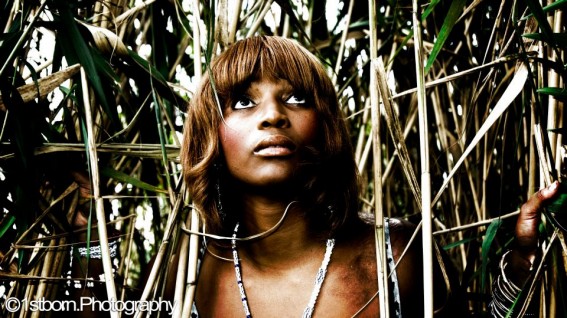 An extra-ordinary songstress born in England and raised in all.
At the tender age of thirteen Balinde began doing backing vocals for Claude King, a producer who has worked with the likes of Jonas Gwangwa, Hugh Masekela and Caiphus Semenya. She has been involved as a voice over singer for television programs like Molo Fish and other international shows.
Being part of a very artistic family exposed her to all forms of the arts but particularly in music, where she realised her ability to express herself through song. Growing up in this environment allowed her to see herself as a canvas and through fashion and song she began to cultivate her lifelong relationship with the arts.
Her understanding for human relations and behaviour directed her towards studying Psychology at university level and thereafter accepting an ancestral calling to become a sangoma. After answering the calling and coming into her own, she found a way to merge all these life styles together and this embraced all aspects which were a part of whom she is. She often says "in order to emancipate one's self, you needs to unearth yourself."
At high school level she majored in drama at Pro Arte Alphen Park where her raw talent and passion saw her bestowed with a merit award for three consecutive years. This early nourishment allowed her to adjust quite seamlessly into the cast of three movies for Coalstove Productions which are currently aired on the Mzansi Entertainment channel as well as sold in local South African video outlets.
Balinde's music career paved its way organically, where she found herself approached by artists in different genre's where other projects materialised. In 2007 she worked with kwaaito star Mandla Spikiri in a song which featured Kabelo of TKZ, she dabbled in recording with the likes of Ishmeal, ZOLA and many more soon finding solace in a more spontaneous sound and became the lead singer of a jazz band called 'Embedded'.
Working with all these great people helped her bring texture and volume to her voice, her studies both western and cultural assisted her to form a unique sound as well as witty, insightful lyrics which create a truly profound experience for any lover of music. Her aim is to touch as many people with her voice and she since realized the genius in marrying two sounds that she holds dear to her heart, Jazz and House.
The year of 2012 has to be the most complimentary year of them all as she features in in two songs for popular house DJ duo Miza and Nutty Nyc as well as another two songs for SAMA award winner DJ Choice.
She has just completed her first single "Walking" which is a jazzy house song about the decision to end a relationship that did not meet the prospects it seemed to initially promise. While the South African music industry offers a variety of jazz and house songs in their respective elements, Balinde's fusion of the various elements into one sound makes for a refreshing and soulful composition which is further complimented by its ability to captivate masses at both local and international levels.