BLACK sisters are doing it for THEMSELVES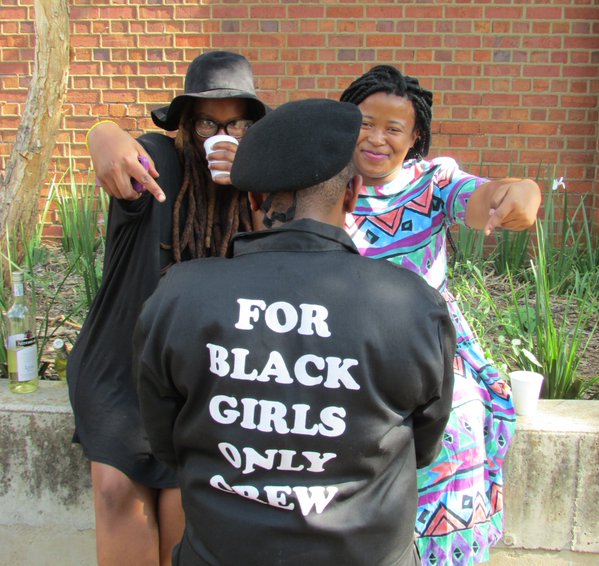 History was made last Sunday when black girls across Gauteng got together to celebrate each other at a #ForBlackGirlsOnly event which took place at the Constitution Hill in Jozi. For Black Girls Only initiative is a space for black girls to just be, a space for them to celebrate each other and the magic that they are.
All women of colour came together to share their stories and daily struggles coz being a black girl in South Africa isn't easy fam. We need to fight our wars together as black women in order to survive a racial and patriarchal country that is Mzansi.
It was a glorious sight to see black girls congregate all in the name of Sistahood.
We caught up with a beautiful brown girl by the name of Makhotso Pulumo who had nothing but positive things to say about the event. When she heard what a success the event was in Cape Town, she knew that she had to be there to experience it in Joburg.
Q: How was your experience?
A: My experience of #FBGO was simply amazing. I cannot overstate this enough. I'm still on Cloud Nine. I CAN NOT wait for the next one.
Q: Do you think that it is important that we have more events like #FBGO that celebrate black women?
A: Yes! Definitely. I mean it's so amazing going to go to an event where I'm not worried about my drink being spiked or getting unwelcomed advances from drunk men (don't get me wrong, only a few men do this) but I'm sure most girls know how annoying it is when you get up to dance and some random man starts groping you. You don't feel free. I wore my crop top with no shame and didn't feel naked at all.
Q: What is it like being a young black woman living in South Africa?
A: It is not easy. I love my shorts, and crop tops, and short summer dresses, which I have a lot of by the way, but can't even wear because I hate being catcalled. Rape is such a sore reality here. I hate that every time I leave my home the main thing my mom worries about is me being abducted, raped or even murdered. It is not nice. Some men feel entitled to every girl that they come across, and as a result I've ended up distrusting all of them. I do not want my life to be controlled by men like this, it's unfair.
Q: What are some of the disadvantages of being a black women living in South Africa and how can we find solutions to some of these problems?
A: The above mentioned, as well as gender inequalities and so-called gender "roles". Don't get me wrong, there are certain things that are better with a woman's touch and vice versa but some of these roles are overstated and simply ridiculous. There's an increase in educated women but they are still being treated as less-than in the workplace. Women have to work extra hard – both at work and at home, to be acknowledged.
Q: What is the best thing about being black?
A:  My skin tone, my home language. Ubuntu! My culture and traditions, my curvy body. My fascinating family tree. The fact that we're survivors; our ancestors went through the most but we're still here, still getting stronger, still living. I love it.
Facebook Comments