Moziak Piece 7 is now out featuring the Mzansi media darling.
Moziak Magazine takes a candid conversation with Boity chatting about being an "It" girl, her take on her celebrity status, starting out in a Wimpy advert and becoming a childhood presenter on YOTV, to being a powerhouse brand that's ever evolving.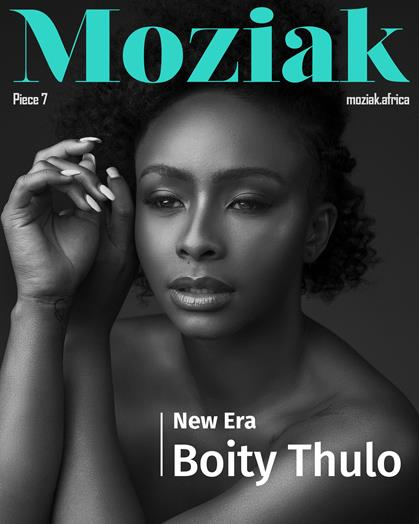 The biggest thing for me in this journey was being fearless and fighting against the notion that you can only belong in one box. I think there is a little bit of an issue of our people in the country, they celebrate us according to what they believe we are worthy of
Shares Boity.
The release of the Boity cover for Moziak Magazine cover comes off the back of the announcement that model, brand ambassador and businesswoman, Blue Mbombo, has joined the team as a partner, taking on the role of Creative Producer.
I loved working on this Moziak Magazine cover. The team was phenomenal and Boity was an absolute star! We have some exciting releases coming up that the continent will definitely enjoy
expresses Blue Mbombo.
The Moziak Magazine cover shoot team is made up of the best in the industry and the results are evident. Commercial and celebrity photographer Xavier Saer did the shoot, Mpumi Ntintili-Sinxoto former Destiny Magazine Fashion Director did the styling, Jawad of Lajawi Beaute Café styled Boity's all natural hair, beauty, brand and advertising MUA Bee Makina #ItsBeeOnTheBeat was on make up, and industry new comer TVB Media did the behind the scenes videography.
Read her full cover article here: https://moziak.africa/2019/05/31/boity-in-a-new-era/