From penetrating the international market and grace the world from the Colours Show to now set to perform on the biggest stage in his life.
Black Major artist, Bongeziwe Mabandla, is set to reach an incredible milestone with his Imiini album release this Friday, 22 May 2020, when he'll take on the Billboard virtual concert stage as a Spotlight Artist.
Billboard, the world's most influential music media brand, presents a three-day showcase (21 – 23 May 2020) of live performances spotlighting some of the most exciting and vibrant talent currently making noise in Africa and beyond in partnership with Platoon.
Bongeziwe is set to perform tomorrow, Friday, 22 May 2020 at 8pm CAT. Set your reminders to watch here: http://billboard.com/LiveVideos
"It's an honor to be sharing a very special performance with Billboard. It reminded me of being back on stage and doing something I love again. I have chosen to perform songs that have resonated the most with people. Can't wait for everyone to see what we created!"

-shares Bongeziwe Mabandla.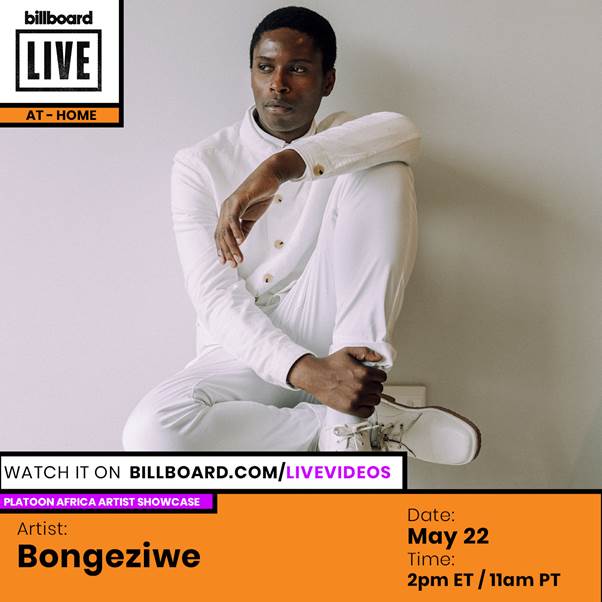 Bongeziwe's ground-breaking Billboard news follows the news received earlier this week that his COLORS Home Bred performance was selected amongst the best globally.
Over the past eight years, Bongeziwe Mabandla has developed and perfected a sound as timeless as it is enchanting. His 2020 imiini release has seen immense praise not just from the media, and digital store-fronts, but from the wider artists community worldwide with some notable praise from Florence Pugh, Mumford, and Sam Smith.
Be sure to tune in to billboard live tomorrow to watch the full performance.