Cassper Nyovest VS Kanye West: Inspiration or Plagiarism?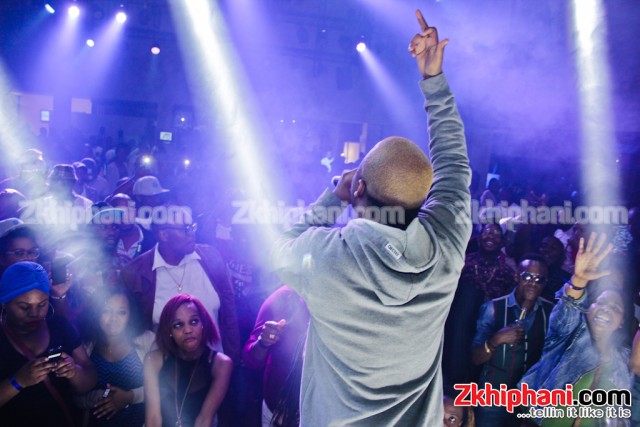 Is it true that good artists copy and great artists steal? And if that is so, where do we draw the line? So we woke up to the news that Cassper Nyovest jacked Kanye West's floating stage concept but Cass did it first. Kanye West called out imitators who have jacked his style and floating stage during the Saint Pablo Tour that kicked off on the 15th of October 2016.
According to Hype Beast, the rapper exclaimed: "This the original, accept no imitations! You with the rap God right now. N****s be copying our shit bro. Stealin' our shit, stealin' our stages. Copying our shit one-to-one." Kanye didn't mention any names but our very own Cassper Nyovest caught feelings and responded to the rant by posting an image on Instagram to prove that he was first to pull off the concept.
Woke up to my name on American blogs about how I possibly stole kanye's stage. We did this a year ago already. lol. Ya Neh. pic.twitter.com/OEJcgrkVNo

— FillUpOrlandoStadium (@CassperNyovest) October 17, 2016
This topic brought up the idea of artists and designers copying and stealing each other's concepts. Some artists get ideas from what has already been done and others outright copy the work of others and make slight differences to it. is it because there is nothing new and original anymore? Or is this just mistakes made by designers? Cava some of the artists that have outright jacked existing work
Cassper Nyovest
While Cassper has came out against Kanye West for jacking him, it seems the rapper has jacked quite a number of people. He jacked the Cartoon Network logo and even admitted that his logo was inspired by the Cartoon Network theme.
He also jacked an image of a child roots for his Family Tree logo although it is possible that he may have purchased it since it is a stock image.
Riky Rick
Rapper Riky Rick has was also called out for copying The Game for his Family Values album cover.
Black Coffee
The award winning DJ and producer was also accused of stealing singer, Ledisi's album cover concept. Not only was the design of the album stolen but the title of the album was also jacked, making it difficult to overlook this as an honest mistake.
Kid X
Former Cashtime Life rapper, Kid X, also found himself in hot water after Mr Selwyn accused him of stealing his concept for Kid X's 3/4 Pace mixtape cover. It was later established that the designer used a stock image that Mr Selwyn used for his album.
AKA
Rapper AKA also "drew some inspiration" from Michael Jackson for Baddest single art. They look eerily similar; from the colours to the font and the placement of the image.
DJ Bongz
Even DJ Bongz almost got sued by a New York clothing design company who accused him of stealing the design of their caps. All he did was add the gwara gwara cartoon to it.
Deejay Bongz is pulling a Deejay Sbu on us? Vianel New York say this is their cap… #GwaraGwara pic.twitter.com/sAkxAHgWYd

— GedleyiGuptisa (@Beyoncekazi) April 27, 2016
What are your thoughts on this? Is this inspiration or straight out plagiarism?
Facebook Comments