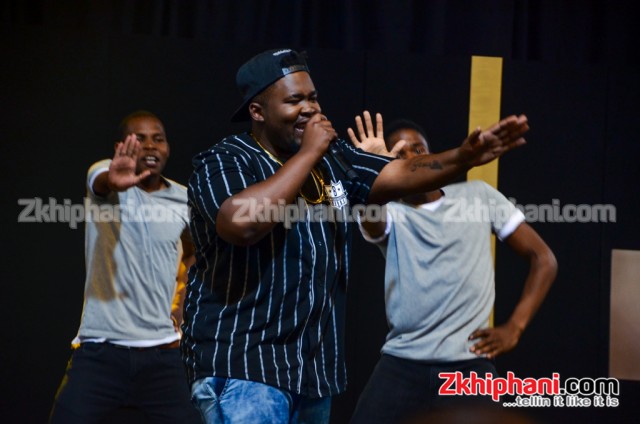 BigStar Johnson, real name, Tumelo Rakumako has recently been announced as the winner of the first season, of Vuzu TV's 'The Hustle'. The Hustle is South Africa's first Hip Hop talent search where we came to see 20 of SA's top undiscovered rappers go head to head over 10 weeks. On the show BigStar had the opportunity to work with one of SA's best known hip hop producer, PH, to create his debut single titled 'Get It'. I had a chat with the new star…
Q: First of all congratulations on being the winner of The Hustle, What went through your mind when Sammy Sosa announced your name as the victor?
A: When I heard my name being announced my emotions completely shut down, I was too happy,  too excited,  I felt like this couldn't be happening but I will forever remember feeling blessed and appreciative for everything.
Q: What did you learn during show and how will you apply these skills in your music career?
A: I learnt the value of understanding the business and to not rely on talent alone. I won a lot of challenges because I stuck to the briefs I was given and that showed me that even in pursuing a real music career, one has to follow through with the nitty gritties of the business. Studio is studio but the hustle is outside the studio.
Q: Which contestants did you form genuine friendships with during the show and do you still keep in touch with any of them?
A: I formed very strong bonds with Cass and Shane Eagle, however ShabZi, Jimmy Wiz and Eric Rush are also brothers to me now. We continue to work together on music with these guys,  as well my homie Mopheme.
Q: Who did you feel was your biggest competition?
A: Cass, Shane and Eric were all very strong competitors in my eyes.
Q: Who are you looking forward to working with in the near future?
A: A couple of the guys from The Hustle, Muzart just to name a few I don't wanna give too much away too soon
Q: Which judge did you relate to the most? Who gave the best advice and criticism?
A: I relate to all the judges differently and equally… The Judges on the show are all legends in my eyes..
The best advice I got was from proverb! He told me that strong can become average so one has to keep pushing for better
Q: What are your plans for the future and what can your fans look forward to?
A: Right now people can expect a lot of singles and features…I'm hungry to taste the game… I cannot promise an album anytime soon but I can promise when It drops it will be a classic.
Q: This is a very tough industry, how do you intend on navigating it and staying relevant with so much competition?
A: Stay gigging,  stay releasing music and never compromise on quality. I've spoken to a lot of industry guys and one thing is clear…There is no formula…I'm willing to experiment and learn and hard work has never reaped bad seeds.
Q: Which artist are you looking forward to working with the most within the industry?
A: I've always wanted to work with Muzart, Jimmy Nevis and artists like Zakes Batwini…Im a weird rapper I know haha.
Q: If you were not a hip hop artist you would be a …..?
A: Jazz artists.. I love instruments and hopefully I can go study music theory as well classic piano sometime early next year.
Q: Which local female celebrity is your ultimate crush? Be honest
A: Lol Jessica Nkosi.. 10/10 hahaha.
Q: What kind of qualities do you look for in a woman?
A: I literally just want a kind hearted girl, who treats people with respect and loves herself enough.. A lady who treats herself as a lady.
Q: Do you have someone special in your life? Please give us the honest answer and not the "PR" one
A: I am single lol.
Q: Lastly, let's talk groupies… have you encountered them so far and how do you intend to handling the groupie love?
A: I have encountered it but I see it as fans showing love…I never let it get out of hand, a picture is about as far it goes… I love my fans though ladies and brothers…I will never disregard anyone tryna show love.