Chit Chat with Yes Fash & His Crew #AwesomeFoursome
We had a sit down with probably one of the biggest maker of video skits in South Africa who goes by the name Yes Fash! With over 300 000 followers on Facebook, Fash is probably the most underrated influencer in the country as he has a cult following that will kiss his feet if he was to ask them to, his videos reach thousands of views within minutes. We are intrigued by his brilliance so we sat down with him and his team, team work makes the dream work so Fash introduced us to Kingsley who is the cameraman, Bra Bizza who takes care of technicalities and fellow vlogger Tafire, and together they make an #AwesomeFoursome.
Together, the crazy bunch make comedy as well as some music. Fash and his team let us in on some of their daily routine and we got to see for ourselves what it takes to curate dope content and the process of making music while indulging with a delicious Awesome Foursome™ Debonairs Pizza.
Facebook Comments

Meet the #AwesomeFoursome team behind Lady X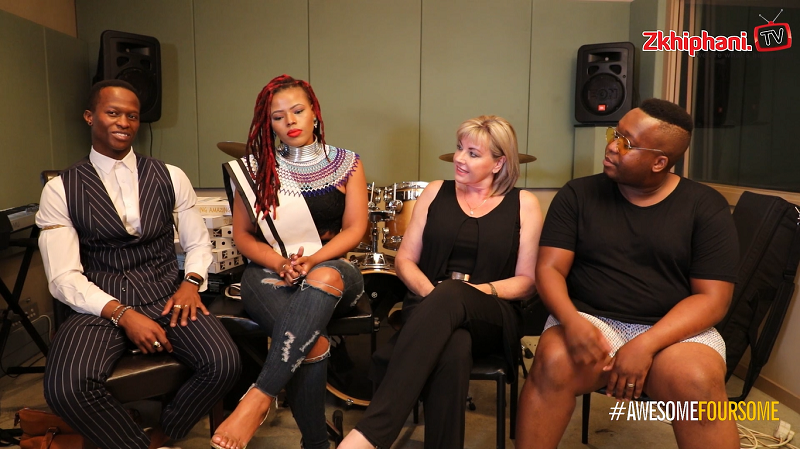 We believe that for every amazing piece of music there's always a team and some of the other members are usually behind the scenes & therefore never get acknowledged or get the credit they deserve. We also believe that there's usually four people involved, #AwesomeFoursome is all about acknowledging all four members & highlighting the fact that each is an individual & brings a unique flavour to the awesome project they collaboratively create.
Lady X is a multi-talented vocalist and all round talent who has clearly made an impact in the music scene with her rich and distinctly soulful voice. She recently released a music video for her latest single, iGugu Lami late last year, the love she has received since dropping this song has not changed.
We were intrigued with her rare flair so we went to see her at her recording studio and got a chance to meet her whole team which consist of; Nkosiphile Ngcobo who is the creative director, Sheryl Govender who is her manager as well as well as Big Dreamz who is the producer. They gave us insights into what makes the brand Lady X work and what it takes to be a successful artist, the team later enjoyed their different choice of flavour from a delicious Awesome Foursome™ Debonairs Pizza after the interview.
MEET THE TEAM:
Big Dreamz
Nkosiphile Ngcobo
Sheryl Govender
Facebook Comments