Topo Chico Competition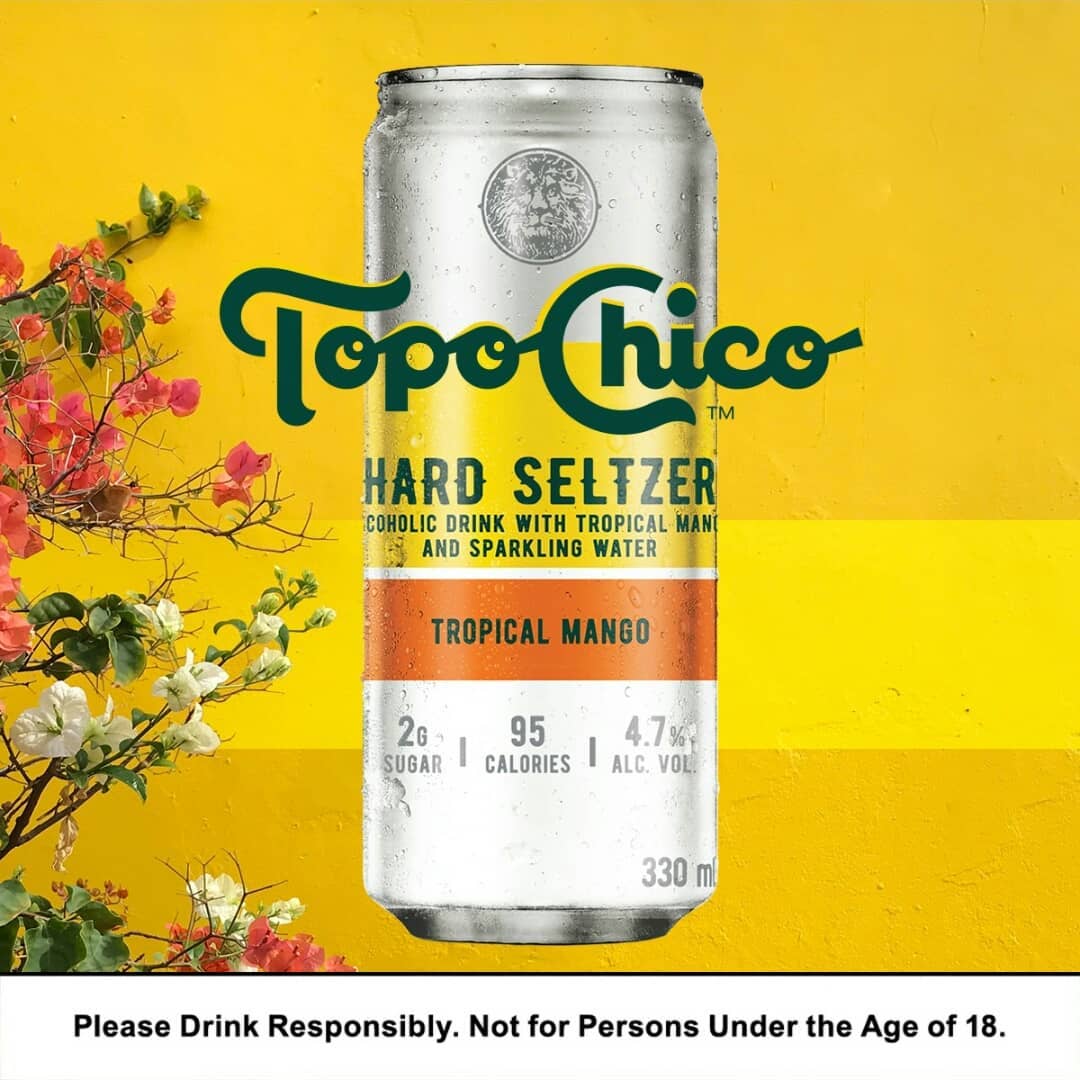 Check out BTS video of @TshepoJeans @zeexonline and @ThatoRampedi in collaboration with @TopoChicoZA and re-tweet with the #TopoChicoTime #PerfectContradiction hashtags tagging @Zkhiphani to stand a chance to win 1 of 3 Topo Chico 6 Packs, T's & C's apply.
TERMS AND CONDITIONS ZKHIPHANI COMPETITION
This Promotional Competition ("Competition") is organised by Coca-Cola Africa (Proprietary) Limited, Norman Goodfellows (Proprietary) Limited and Paton Tupper (Proprietary) Limited.
The Competition is open to permanent residents and citizens of South Africa over the age of 18 (eighteen) years, who are in possession of a valid form of identification (South African Identity Document or Passport), except any minor, employee, director, member, partner, agent or consultant of Zkhiphani, or any person who directly or indirectly controls or is controlled by Zkhiphani and/or immediate family members of any of the above persons, its advertising agencies, advisers, dealers, suppliers and Bottlers of beverages identified by the trademarks owned by or licensed to The Coca-Cola Company, its affiliates and/or associated companies.
By entering the Competition, all Participants and the winner agree to be bound by these rules/terms and conditions as interpreted by Zkhiphani, whose decision regarding any dispute will be final and binding. Zkhiphani reserve the right at any time, without notice, to amend, modify, or change these rules/terms and conditions and any prizes, and to postpone, suspend or cancel this Competition and any prizes, or any aspect thereof, without notice at any time, for any reason which Zkhiphani reasonably deem necessary.
The Competition is only valid within South Africa. Participants must be within South Africa at the time of entering the Competition, for the verification process and at the time of the prize being awarded should they be declared a winner, failing which such person will be disqualified and the draw of a replacement entry shall take place under the same terms and conditions as the first draw.
The Competition commences on 17 December 2021 and ends on 22 December 2021 ("Competition Period"). The winner will be announced on Twitter and will be contacted via Twitter DM to claim their prizes. The winners will be selected by Zkhiphani based on how active they are in posting the hashtags and promoting the Topo Chico Hard Seltzer.
Participants stand a chance to win 1 of 3 Topo Chico 24 Packs for you and 3 (three) friends.
To enter this Competition, Participants will be required to do the following:
Re-tweet with the #TopoChico #PerfectContradiction hashtags tagging @Zkhiphani to stand a chance to win 1 of 3 Topo Chico 24 Packs for you and your 3 friends
Participants enter the Competition subject to the following conditions:
If any entry was made in a manner which in Zkhiphani discretion provides the Participant with an unfair advantage over other entrants, such a Participant will be disqualified from this Competition.
Participants may enter this Competition as many times as they like.
Zkhiphani is not liable for any technical failures affecting the participation and/or prize redemption process of the Competition.
If Zkhiphani are unable to make contact with the winner within 48 (forty eight) hours from the date of the winner being notified or if the winner fails the verification process after drawing his or her entry for whatsoever reason, such person will be disqualified and a draw for a replacement entry and winner will take place.
Indemnity, use of Participant and Winner Information:

All Participants and the winner, as the case may be, indemnify the Promoters, their advertising agencies, advisers, nominated agents, partners, suppliers and Bottlers of beverages identified by the trademarks owned by or licensed to The Coca-Cola Company, its affiliates and/or associated companies against any and all claims of any nature whatsoever arising out of and/or from their participation in any way howsoever in this Competition (including, as a result of any act or omission, whether as a result of negligence, misrepresentation, misconduct or otherwise on the part of the Promoters and/or receipt and/or use of the Prize).
The Promoters may require the winner to be identified, photographed and published in printed media, social media or to appear on radio and/or television, when accepting their Prize or after having received their Prize. The winner will be given the opportunity to decline to the publication of their image and to participate in the Promoters' marketing materials in so far as it relates to the Competition. The Promoters may use the uploaded images in whole or in part, and any reproductions thereof, worldwide for advertising, promotion, publicity or otherwise on any website for any media purpose and for any other lawful purpose whatsoever.
The Promoters and its affiliates (including subsidiaries, Bottlers, and joint ventures) may contact the Participants via SMS and through social media platforms to deliver marketing communications regarding their products and promotional activities, subject to the provisions of the Protection of Personal Information Act, 2013. Personal information collected from the Participants may be processed, as described in the Privacy Policy accessible at coca-cola.co.za.
The Promoters may require the winner to complete and submit an information disclosure agreement and indemnification to enable the Promoters to ensure compliance with these Terms and Conditions as well as the Consumer Protection Act 68 of 2008. Should the winner refuse or be unable to comply with this clause for any reason, such a winner will be deemed to have rejected the Prize and it shall revert back to the Promoters.
By posting any content, experiences, or images on any social media platform, in relation to this Competition and its associated promotional activities, Participants consent and give Zkhiphani a world-wide, royalty-free and non-exclusive license, to reproduce, modify, adapt and publish any content posted and/or submitted by a Participant on a social media platform, for the purposes of promoting the products and services of the Promoters.

In the event of unforeseen circumstances or causes beyond Zkhiphani's reasonable control, Zkhiphani reserve the right to cancel this Competition (before entries are received), to change the number or nature of the prize at any time (on 20 business days' notice to you), or to change the Terms and Conditions at Zkhiphani's discretion.