Ferguson and her grandson 
Ronewa
 are all kinds of adorable on the cover of
 Sowetan's S Magazine
 celebrating Heritage Month.
Actress and entrepreneur, Connie Ferguson almost broke the internet when she shared a picture of her latest magazine cover. Recreating an iconic photograph that has adorned the walls of many a black household in the townships in the 1980s and 90s, she sent social media into a frenzy with people recalling the famous photograph. 
Ferguson and her grandson Ronewa are all kinds of adorable on the cover of Sowetan's S Magazine celebrating Heritage Month. 
S Magazine editor, Thembalethu Zulu, said: "The original picture of the woman and child embracing hung on so many of the walls in our communities. We didn't know who they were, but you'd be hard-pressed to find someone who grew up before the 2000s who doesn't know about them. 
"When I first had the idea to recreate the image for our Heritage edition, I immediately knew who would embody the nostalgia needed — Connie Ferguson."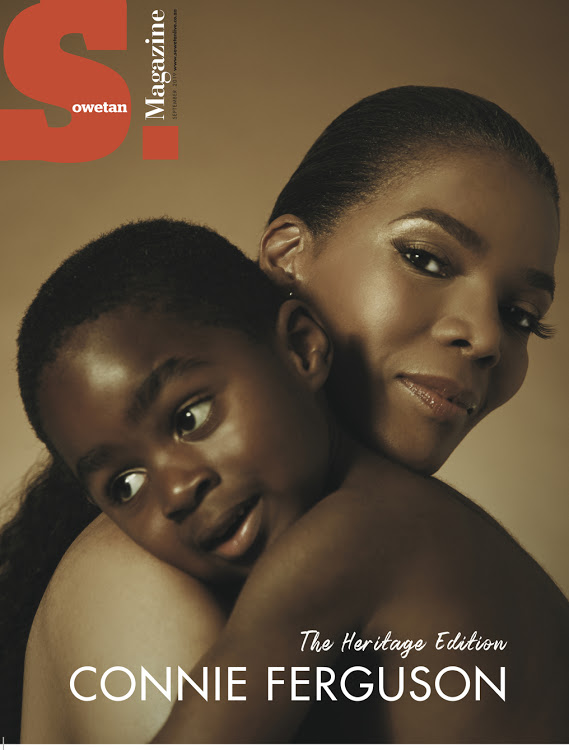 The doyen of South African entertainment 
Ferguson has been a staple of the South African entertainment industry since the early 90s. She played the iconic Karabo Moroka on Generations and in 2010 after playing the lead role of Karabo for 16 years, Ferguson announced her departure from the soapie "to pursue other career options". 
Along with her husband, Shona Ferguson, she immediately launched the television company Ferguson Films in 2010.  
Their first production, Rockville, was commissioned by M-Net three years later. Other productions include iGazi, The Gift, The Throne, The Queen, The River and The Imposter.  
The couple often appears in their own productions; for example, Ferguson played the role of Mavis Mabaso on Rockville.