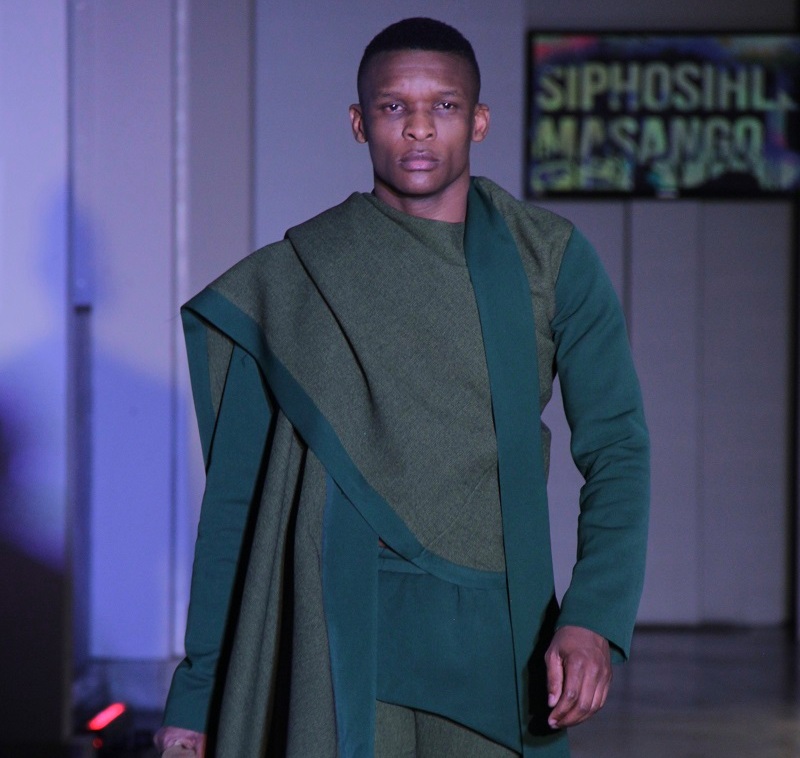 Last Friday, David Tlale's interns treated us to a fashion show with a difference! Nine, young, up-and-coming fashion designers, who have been working under David's wing, took their garments to the runway as they presented their collections at the Interns by David Tlale fashion extravaganza!
The show, which was in celebration of South African youth, commemorated 40 years since the June 16 uprising and saw the vivacious talent of nine showcase their 17-piece collections under the themes, May Day and June 16!
David boldly opened the show and gave the audience insight into what his vision for the intern initiative is – noting that he wishes to turn this venture into a reality show that will one day teach young designers the art of design and coach them on how to create and sustain their fashion brands, once established!
David Tlale is about quality, and in true David style, he challenged his interns to show their craftsmanship by getting them to use the delicately difficult "georgette" fabric as part of their May Day collections! Needless to say, the designers lived up to this challenge and executed beautifully!
Once the show got underway, the mood instantly became electrifying as the audience witnessed the skill and creativity the young designers had to offer!
Under the May Day theme, the designers wowed in clean-cut, brightly-coloured, feminine designs with a touch of traditional flair! Hammer-wielding models, head scarfs and African accessories were common elements in the first collection. Intern, Maxwell Boko's pastel blue, layered cuts stood out the most for me in this first part of the show!
By now, the crowd was yearning for more and the June 16 collection delivered! The interns' work was meticulous and had the signature David Tlale quality! The Youth Day collection presented ANC colours, men's wear, tasseled pieces and navy, seal designs! The designs were practical, some easily passing off as high-fashion office wear anyone could rock; we're talking 'business chic meets African elegance'!
While some of the interns played it safe in this collection, others like Siphosihle Masango, Ntando Ngwenya and Mbali Buthelezi created bold designs that had the audience in awe! This collection was patriotic, intricate and detailed! Siphosihle emerged victoriously and received a standing ovation for his fearless men's wear collection, which was made up of jumpsuits, capes and gilets in military green and olive!
The show was well crafted and if the night's designs are anything to go by, then these interns are destined for big things; how can they not be, they are, after all, cut from the same cloth as David Tlale!
From these nine, David will select an overall winner, who will work closely with him as a Fashion Assistant for the next year! The winning intern will travel with the internationally-acclaimed designer to New York, Milan and Dubai for Fashion Week!
The nine David Tlale interns are; Ntando Ngwenya, Mahlodi Kgotiane, Winnie Mokoena, Angeline Mafemo, Mbali Buthelezi, Maxwell Boko, Mmuso Potsane, Cindy Meabe and Siphosihle Masango!
Keep it locked to Zkhiphani.com for more emerging stories on these young talents; they are going places!
*Images courtesy of Katlego Mamabolo.