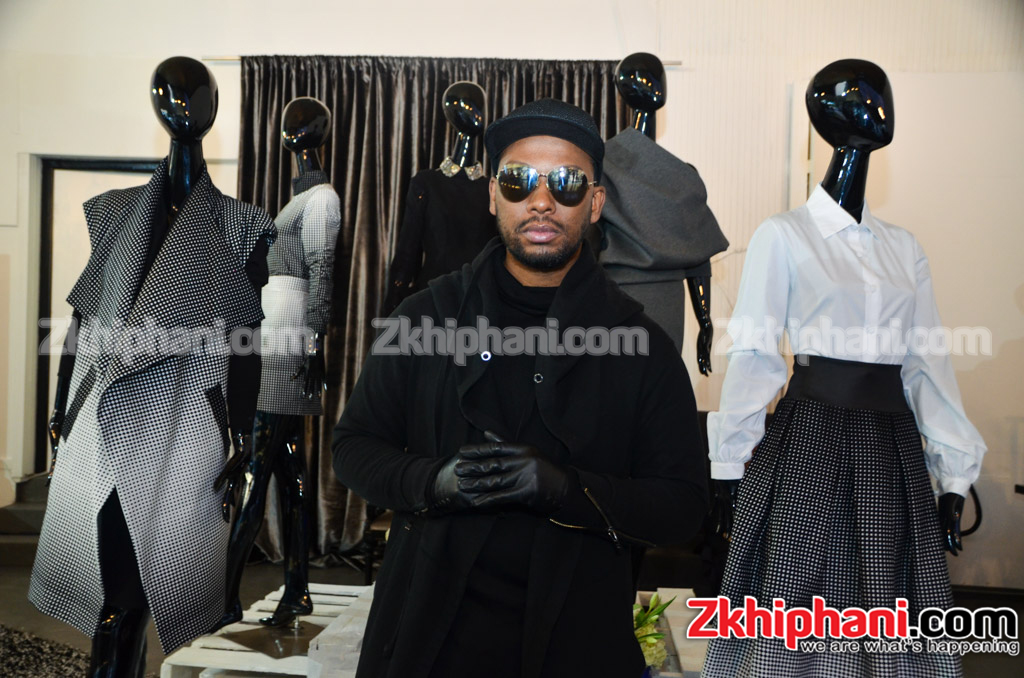 Award-winning fashion designer, David Tlale has done it again. On Friday last week, the fashion guru officially launched his top of the art pop-up shop, David by David Tlale, in downtown Jozi; with one aim in mind "to bring the David Tlale brand closer to the people".
Speaking exclusively to Zkhiphani.com, David let us in on what inspired his newly launched outlet: "It's been a long journey and deciding to come to the city was well thought out. We realised that people don't really have experience of the David Tlale brand so we decided that we're going to bring our diffusion line right here in the city because we're made in the city," says David, adding that he also wanted to ensure that people could start affording the brand, David Tlale.
In the poshly quaint store, contemporary designs in black, white and grey colours can be seen with Aztec monochromatic coats, jackets, skirts and trousers available for purchase right off the shelves.
The collection, which is mostly female, has clothing items that range from as low as R350, to the most expensive item in the store at R3300.
"This is our way of ensuring that people can dress up or dress down in designer pieces that are affordable, understated, yet still having a designer element to it
he adds.
The shop, which David hopes to grow into a fully fledged David by David Tlale outlet, is set to open indefinitely while the first three months will be used to "test the waters". "We'll use these first months to gauge our client's needs and find out what price points they're comfortable with; as this will ultimately help us serve them better," says David.
On why there are no colours in any of the collection pieces, David gladly informs that, as this is a new journey, the best way was to start off with easy colours that everyone could wear and appreciate – and monochrome was the best option, especially this winter. "In our Spring/Summer line, you're going to see popping colours. Next season, we're going everywhere; you'll get to see how we would have beautifully build up into the current collection," he adds.
David, who is known for his craftmanship, says the garments will continue to come with the signature David Tlale assurance, and that once customers buy and fit the pieces, they'll automatically be hooked.
Although you may not see your size on the railing, don't despair because David says that his sizes do range from 32 all the way to 42. "This is not a jumble sale, so not all sizes will be displayed upfront. You must still feel like you're in a designer store," he explains.
If you want to experience David Tlale's work and own items created by this fashion extraordinaire, be sure to visit the David by David Tlale pop-up store at 129 Fox Street, Johannesburg.
To view more images from this event, CLICK HERE!