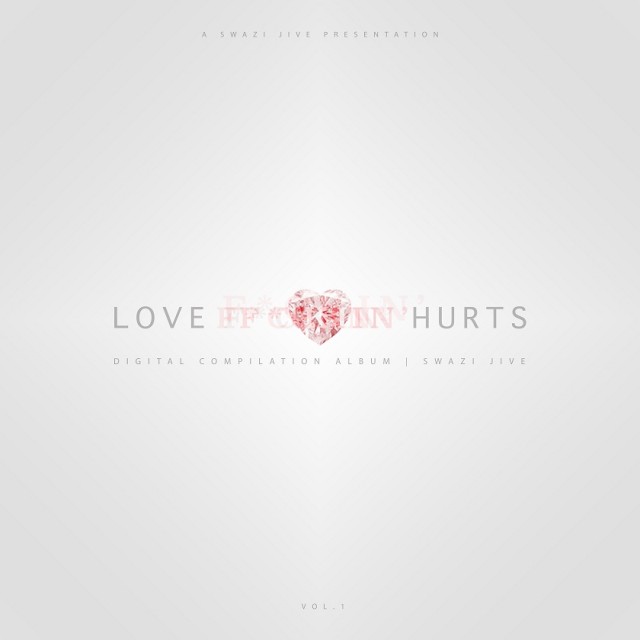 If you have been living under a rock or better yet grazzing on grass #NoPastorDaniel, you would know of a record label by the name of Swazi Jive. Swazi Jive is a stable from Swaziland that is packed with an all star roaster.  Lead by co-founder and director Sakhile Nkambule as head coach.
Swazi Jive recently released a compilation titled "Love Hurts Vol 1". Love Hurts Vol.1. A compilation of beautiful records that express the sad truth / reality in many people's lives when it comes to relationships and friendships.
Introducing The All Star Team:
Nomfundo Spies
-Stage Name: Foo / Adrienne Spies
-Singer
-Like many talented vocalists Foo has been singing her whole life, recently joined Swazi Jive. "After listening to her sing and observing her writing skills no one can deny that she is Africa's next super star".- Sakhile Nkambule
Lihle Dlamini
-Stage Name: LO (Pronounced low)
-Producer & Vocalist
-A member of D.M.T.A (Dope Mind's Think Alike) , Swazi Jive's squad of multi talented individuals. Lo is responsible for the beats & mixing for the majority of the compilation.
Sandi Wasswa
-Stage Name: Kid Nice / Mnandi
-Rapper
-Swazi Jive's first signing when the record label was launched. A D.M.T.A member, the rapper packs witty rhyming schemes to his arsenal, Kid Nice is one to lookout for. In purcuit of global domination, the musician is based Oklahoma, USA.
Trevor Hambayi
-Stage Name: Kikwa
-Rapper
-D.M.T.A member and Zambia's hottest rap prospect. A wordsmith who paints pictures with his words.
Ebrahim Ndure
-Stage Name: Ebz
-Rapper / Vocalist
-Song writer and D.M.T.A member. Ebz has earned his nickname 'captain hook' amongst his crew members for a reason.
Tatenda Mandaza
-Stage Name: Tendaness
-Award winning Producer / DJ
-The most experienced and decorated member of the label. Tendaness mastery at remixing records is displayed on the last two tracks of the compilation.
Subscribe on www.swazijive.com to get the Love Hurts Vol 1 Compilation download link sent directly to ur mailbox 
Facebook Comments