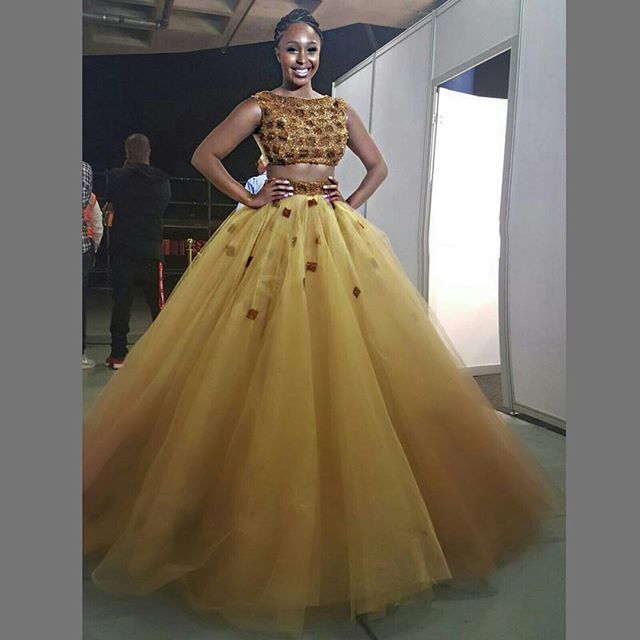 The South African of the year awards took place this past weekend and although the familiar faces were not there, the present ladies dressed to impress, however with the help of social media we managed to get a few snaps of what the ladies wore on that evening. Minnie Dlamini was one of the presenters and she changed into a few of Gert Johan Coetzee's creations, However in this picture she is wearing a grey fringed dress with mesh detail by Sperovilloti which she had changed into for a link…
Minnie wearing a Gold lace dress by Gert Johan Coetzee…
Nomzamo Mbatha wears a dress inspired by the Xhosa tribe from Keys Fashion…
Nadia Nakai in a revealing low cut Lamanche navy coloured dress…
The skhanda Queen in a tuxedo style jumpsuit with cut out detail…
The ANN7 presenter Abigail Visagie also looked beautiful in a purple and black dress by Irene Makhavhu…
and finaly the queen of all comebacks, Khanyi Mbau was dressed by Keys Fashion as well…
The Big brother finalist Blue Mbombo cleans up very well in a Scalo designer number, She was definitely one my best dressed of the evening…
Lalla stole the show as my Best dressed for the evening, She looked like an African queen in a beautiful David Tlale dress with a turban to match…
Who was your best dressed at this years SATYS?
Our slept on style star of the month Nomzamo Mbatha attended Vuzu Amp's first  birthday party looking all sorts of hot in a crop top that showed off her amazing abs…
Fifi Cooper put aside the tomboy gear for a more feminine look which we absolutely love! Almost didn't recognize her…
My best dressed for the evening, the lady in the lavender coloured two piece shorts set looked stunning, and Im a sucker for a pair of sexy well toned legs…
Fezokuhle looked very chic in a gold pencil skirt with a white vest with a pair of gold strappy heels…
Thando opted for a white suit accessorized with a fabulous watermelon shaped clutch…
Where are these ladies getting these skirts from? They seem to be a big trend this summer…
Who was your best dressed?