First global Flagship Counter & Studio in Sandton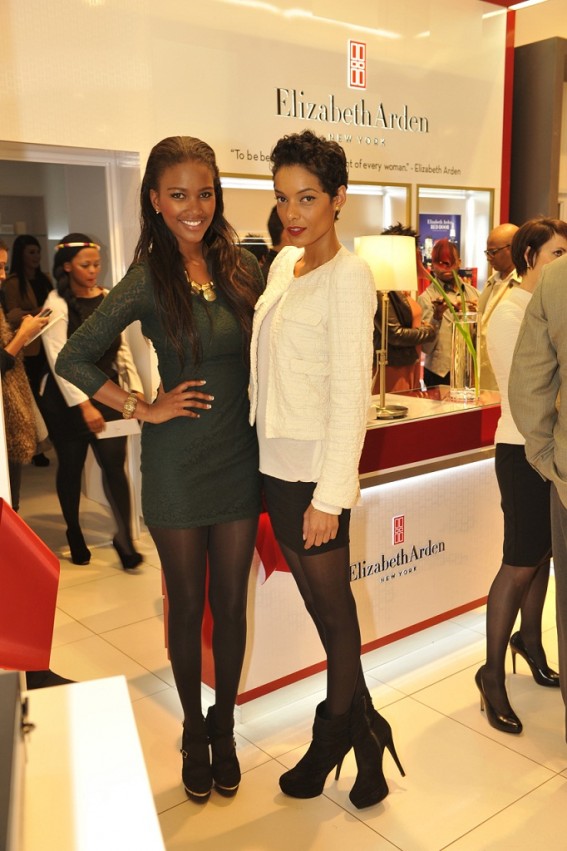 Ms Elizabeth Arden, opened her first spa location in 1910 on Fifth Avenue, and today it remains a symbol of beauty around the world. Over a 100 years later South African's will be able to experience the true Elizabeth Arden experience and escape through the red door as the first new concept Beauty Studio opens alongside the first global  Flagship Counter in Edgars Sandton City on the 22nd of June 2012. The evening of the 21st of June saw key industry people, celebrities and models including Nthato Mashishi (Elizabeth Arden Celebrity Makeup Artist), Gina Myers (Elizabeth Arden Celebrity Makeup Artist), Jen Su, Lerato Moloi, Nobuntu Dlamini, Rosette Mogomotsi, Precious Makgeretsa, Cindy Joseph and Sinazo Yolwa attend the official opening.
According to Helen McCallum, Marketing Manager for Elizabeth Arden – Ms Elizabeth Arden founded the Red Door Spas on the principles that "the essential glow of beauty must come from within and that every guest should leave physically refreshed and mentally rejuvenated." Now the South African team will be striving to perpetuate her vision by enhancing the lives of their guests through beauty, harmony and well-being. The Studio at the Flagship Counter in in Edgars, Sandton City, will showcase how the brand has extended their skincare offerings to include specialised treatments. The all-encompassing treatment menu is complete with renowned signature services, and enhanced speciality treatments. The Beauty Studio offering includes skincare, massage and body treatments to make up artistry and more.
Ms Elizabeth Arden believed that beauty should be "an intelligent union of nature and science to develop one's finest natural assets." This philosophy is carried out through innovative treatments with scientifically-proven and advanced formulations, and the highest level of technical expertise and consumer experience. You will be able to discover this with services such as facials to restore radiance to every skin type or as you soothe your body and your spirit with the signature massage and body treatments. "We are excited to expand our portfolio and allow consumers to enjoy the complete Elizabeth Arden experience, with the inclusion of the Beauty Studio at our first global Flagship Counter. It truly is an honour to be one of the first countries in the world to roll-out the new direction for the brand," commented Helen McCallum, Marketing Manager for Elizabeth Arden.
Facebook Comments