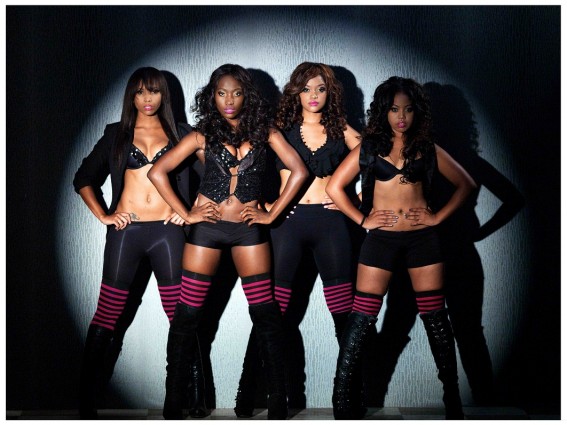 Fly Chix is four member girl band that has decided to invade the male dominated music scene with their first single, ʻIT GIRL'. ʻIT GIRL' was thought of and hatched within an hour of briefing the talented producer Gordo AKA Mister Cartell and Shag the Gorilla from Binary Boys. Music being part of FLY CHIX the lyrics were already flowing in their brain matter just waiting for that hot hook. Five extremely talented girls who have earned their FAN-TABA-GORGE (fantabulous and gorgeous) stripes by not only studying music, theatre and performance; but by individually travelling the world becoming more ʻUBER'. With a zest for life, and a sprinkle of sugar and spice, Beautiful, sassy, sexy, talented, Zeena, Denise, Joy and Takkies bring excitement and energy to the scene rivaled only by their smiles. These five vibrant girls have been linked together like the sound from a stereo slightly out of sync,
zeena
Short and fun with a marvelous voice to capture any audience, Zeena believes that, "a performers life is like a very long journey to an unknown destination, because it's never really about the destination. It's the journey that makes all the difference. "Her journey has taken her to places like Taiwan, Taipei, Indonesia, Hong Kong and Mainland China; Zeena rocking world stages is second nature.
Joy
Joy's passion and compassion comes from her love to give back to her community. "God says your gift shall make room for you and I trust in God that I will make it in this industry…" Indeed her gift of being a multi talented artist has brought her this far, it is sure to take her even further. Joy went travelling to Los Angeles and Chicago; working with Choreographers like Laurie- Anne Gibson, A world-class artist, she is an individual who is able to and tear up a stage looking stunning in her element.
Takkies
Going against her father's wishes to go into the arts, she travelled the world extensively over the years having participated at Debbie Allen Academy Summer Intensive in Los Angeles pursuing her passion for dance obtaining training from choreographers such as Mia Michaels and Wade Robson; until she found The Fly Chix. New York and Germany was but a start in her young career. This member to the group can perform like a star on stage.
Denise
Denise showcased her talent continentally in Equatorial Guinea as a backing vocalist and dancer for JOZI. This historical performance led to her being bitten by the bug to pursue her dreams of being in her own group. Best of all, she gets to show off "Girl Power" topped with more her own sassy, playful flavor. A talented vocalist, song writer and show-girl extraordinaire, Denise vows to bring the house down.