If you were alive on these Twitter streets then you may have noticed the #FreeEmtee hashtag trending. It may sound like the Abantu hit maker was jailed or something, you are way off. It seems as though the rapper is a prisoner, of some sorts, at his record label, Ambitious Entertainment. And this is all judging from his latest tweet which started trend.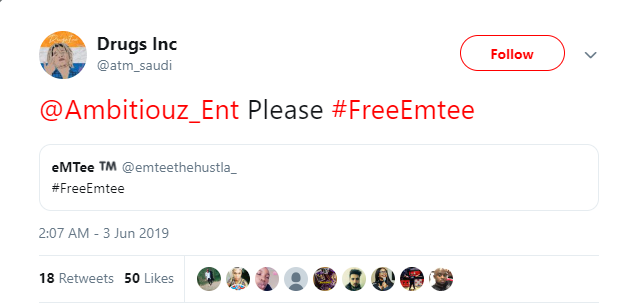 Fans and general Twitter folk have been weighing in on the matter. Check out what they had to say.
Some fans think Emtee had it coming
This is not the first time that an artist from Ambitiouz Entertainment has cried foul at how things, especially money was mismanaged. A few years ago, A-Reece, B3nchmarQ, Fifi Cooper and Flame left the label with a cloud of controversy. And during that time, Emtee came in fierce support of his label. Tweeps are now calling him out on this.
This clown is the same guy who talked shit when ambitious was screwing over fifi cooper and them. #FreeEmtee

— Bobby Axelrod (@JustFrank88) June 3, 2019
#FreeEmtee kungawe manje, Remember Fifi, Areece &Benchmark. Emtee was acting clever during those days kodwa sasho.😂 pic.twitter.com/BqOfzSBnXd

— lusaf (@mazwi_Zwii) June 3, 2019
Other fans want him to stay on at the label and make it work
While there were an overwhelming majority who believed that Emtee somehow had it coming, others honestly think that he can still make it work with the label. Why? Well, because they cannot imagine what Emtee would be without the label and vice versa.
"I honestly can't imagine you without them .not that they have everything but yall blew up together .as a team .you can still reinvent yourself under them bro and archive even more .just make a good decision that will benefit you .I just want to see you on top again."
Others think he can still go solo and kill it
And a small majority expressed that they see Emtee going solo as he still had a bright and promising future ahead.
@emteethehustla_ should just call it quits with ATM…let em take whatever assets they want and start over..they can take the material shit from you but cant take your talent away from you brother man.#FreeEmtee

— Verdict_Official (@TheLastVerdict) June 3, 2019
Let my boy go do best solo, i know he has alot to offer. Let free of The Hustler 😒

— sbala Zoo (@Sifiso_fijo) June 3, 2019
#FreeEmtee go indie pic.twitter.com/vbZpkpox8s

— Treyvaughn (@Vaughn_me_Up) June 3, 2019
Have you seen the hashtag? What are your thoughts?