This May, the City of Johannesburg brings an exhilarating feast of Arts, Culture and Heritage shows
In the month of May, the City of Johannesburg will host a series of compelling creative hubs such as public art tours, exhibitions, performances, and storytelling sessions. The month's line up offers a series of diverse experiences that evoke pride in South Africa's rich and diverse cultural heritage.
Read more: #MusicNews: Africa Rising Music Conference Announces International Artist Showcase Line-Up
The events are a pure celebration of South Africa's rich arts landscape and memorable and compelling creative offerings from some of South Africa's most iconic artists.
The exciting program does not only celebrate South Africa's past and present cultural heritage, but it also provides opportunities for showcasing new ideas and discussing future arts trends.
The whole month is filed with Insightful sessions including workshops, exhibitions and music festival.
View this post on Instagram
Public Art Tours- 21 MAY & 4 JUNE
Best known for his marvellous mosaics, Drew Lindsay passed away in October 2021, leaving a prodigious legacy of public art. The Moving with the Mosaic Master Bus Tour visits art sites spread across much of Johannesburg. As well as visiting established artworks produced over a period of 20 years and more, the tour will preview new work from the Spaza Art Collective. Tour will be led by Eric Itzkin, Head of Heritage for the City of Johannesburg. Joined by artist Dionne MacDonald.
Ceramic Product Development & Training Workshop- 23 – 28 MAY
A 6-day intensive training programme on ceramics led by a leading ceramic expert. The training programme will deal with product development from conceptualisation to completion of an international-standard market-ready product.
Rasta The Artists Solo Exhibition- 27 MAY
A solo exhibition of oil paintings by Lebani Sirenje affectionately known as Rasta. Lebani Sirenje is a Zimbabwean born painter residing in, Johannesburg. Famously known as Rasta in all social media platforms and nationwide. His exhibition will be classified as an international exhibition and will birth life and perspective into the Museum Africa exhibition programmes.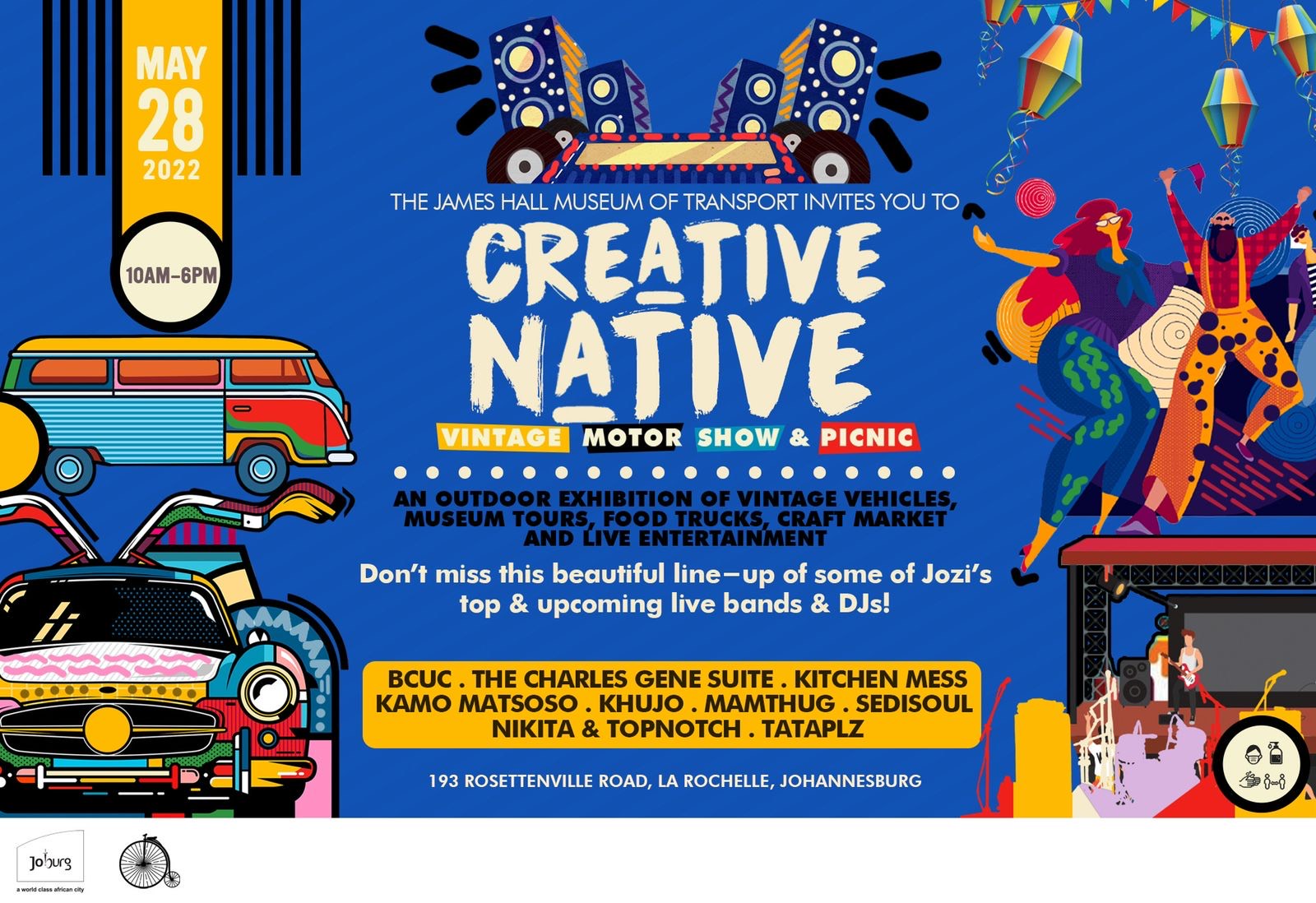 Creative Native Vintage and Motor Show- 28 MAY
This cultural event will present a curated outdoor vintage motor show for Joburg's car enthusiasts, young and old, to celebrate International Museum Month. Vintage car enthusi- asts and collectors are invited to this thrilling event to participate and showcase their private collections in a curated exhibition of both classic and vintage vehicles.
Queen Of The Beat- 16 MAY – 25 JUNE
Queen of the Beat will be an all-female DJ competition that will be open to Joburg-based female DJs. This initiative will create a platform to discover new and fresh talent. The programme will have a competitive edge and all finalists will get an opportunity to be workshopped by an acclaimed industry female DJ.
Emerging Publishers Workshop- 31 MAY – 2 JUNE
This workshop aims at exploring issues faced by emerging publishers in the country. Focused on furnishing individuals with information, knowledge and skills on publishing platforms, including Editing, Market research, Platform building, Analytic, Formation of sales Goals, Trade publishing Vs academic publishing, and Endgame time Management.