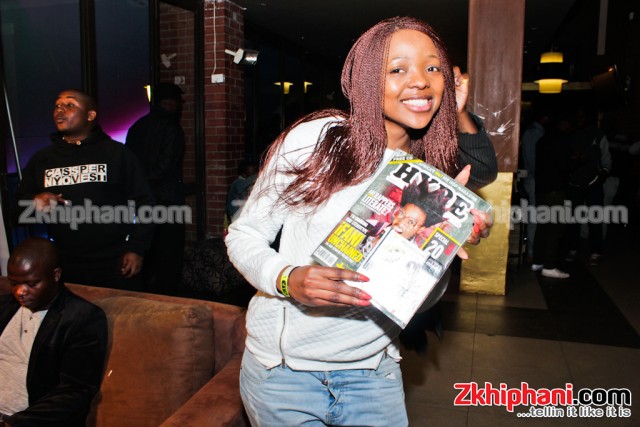 "A lot can happen in 10 years. Careers made, careers shattered; beefs started and beefs squashed. An emcee from Katlegong can change the course of local music history and by using words to bring about social and political change. A kid from Soweto can revolutionise the way we consume music. Three brothers from the Vaal can produce sonics so powerful and sincere that it forces the world to fix its eyes on the tip of southern Africa. Unfathomable masses can relinquish the shallow differences that society tries to make us believe are important, in order to unite under a common cause every year in Newtown and assert their identity as members of a colourless, rhythmic creed. A culture that was once marginalised and perceived to represent everything wrong with the human race can come to represent the youth in a way that no other entity has ever done.
"In fact, an independent magazine with one employee operating from a modest office in Parktown can even aspire to turn barbershop rap debates into 10 years of alternate-monthly 80-page editions of raw hip hop legacy with a strong emphasis on local identity … and succeed." – Simone Harris, Editor. HYPE MAGAZINE is delighted to announce a decade of being South Africa's number one hip hop magazine. Published by Panorama Media Corp, HYPE was created as a tool to uplift the culture and grow the local industry. Consistently at the forefront of emerging talent, the notorious HYPE SESSIONS mixtape has helped launch the careers of some of the biggest artists in our industry.
To kick off HYPE's 10-year celebration, a limited collector's edition debuts on shelves nationwide today 1 October 2014 and will be available over the October-November period or until they are sold out, so don't sleep on it! Taking a trip down hip hop memory lane, the issue looks back on the 10-year journey, including: dope interviews with every single local artist who has ever graced the HYPE cover (including AMU, SKWATTA KAMP, CASHLESS SOCIETY, ZUBZ, HYMPHATIC THABS, TUMI MOLEKANE, HHP, VERB, PRO, TUKS, BEN SHARPA, TEARGAS, JACK PAROW, AKA, ZULUBOY, KHULI CHANA), the greatest HYPE HONEY of all time (voted by fans), and a special features section highlighting controversies, beefs, awards, classic releases and all the other moments that raised eyebrows in the past 10 years.
The featured HYPE SESSIONS MIXTAPE is the first instalment of GREATEST HITS; a compilation of classic songs that have been included on the mixtape at some point over the past decade, compiled by former editor and hip hop comrade Mizi. Featuring timeless favourites by the likes of Cashless Society, Khuli Chana, Zubz, Ben Sharpa and AKA among others, the tape is an instant classic.