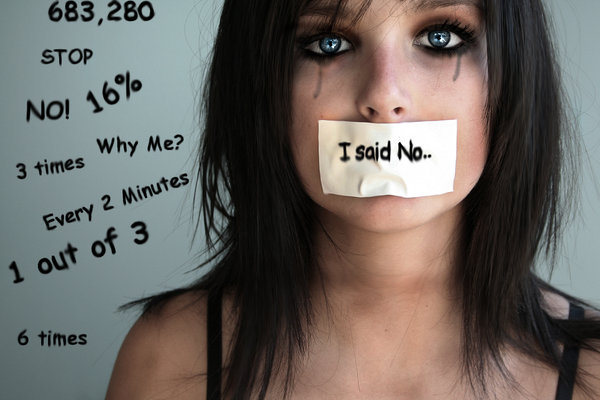 I have a story to tell
And this is how it goes…
On 22 September 2013, a chilled Sunday afternoon I was raped.
I'll give you a minute….
You okay? Cool…
Not much of a shocker as this is happening quite a lot, and before you start calling him a monster, a dog, a filthy pig and everything horrible, stop… Because that takes away from the fact that He's a nice guy, a sweet guy, a cool guy, a real man… But those guys rape too. Don't give men labels to hide under!
Anyway…Its Sunday, im in Winchester at an old friends place, hadn't seen my friends in years so we were catching up… This guy, (let's call him "Karabo" for legal purposes) is close friends with my friends, and while we're all talking it's Clear that we're in the same circle, we know the same people; we frequent the same places. It's a great day, we're all having a good time, laughs and good conversation. Now as the day goes on, i keep talking to my boyfriend at the time as i had plans with him later. So I prepare to leave and as we are in Winchester, and I need to get to Southgate, so "Karabo" who lives in Kibler Park say's hell drop me off ko Southgate and I'm like cool. This guy is cool, and sweet, we all got along as human beings, also he is very close friends with my close friends so that level of trust is there. I say my goodbyes and get into the car with Karabo, we go to his complex as he needs to get money and give to me…
We get to his place and he tries to get all fresh with me, I refuse Cos I'm like "look dude, so not interested, I need to rush and leave for the north west with my man, so can we leave" he comes forward and at this point I'm thinking "WTF Its not gonna happen" I'm starting to get pissed off, and this guy keeps coming closer and pulls me to him, at this point I'm trying to fight him off and he's not stopping.
I'm wearing torn jeans and a long jersey, fighting with this guy, and I'm still not thinking he's gonna hurt me… because… life.
So we argue and I've switched from being pissed to being scared… Karabo then manages to get me to his couch, he pulls off the one leg of my jeans and underwear then tearing parts of it… he pulls down his pants and forces himself INTO me… at this point my whole body is in shock, I'm thinking I'm fighting and pushing him off but my body couldn't move, all I could do was repeatedly say "Karabo, NO!!! STOP IT! GET OFF ME!!! IM Begging You!! You are hurting me, You aren't even using a condom!!! FUCK NO!!!! GET OFF!" And he just went on, the thrusts were painful and tears were flowing down my cheeks, I went numb, I felt powerless… When my body finally decided to respond to me, I lifted my arm and looked at my watch, a good 2 minutes went by and he stopped! He got off and said "I'm done, whats wrong"
*SIGH*
I got up, went into his bathroom, sent my location to my boyfriend, my brother and smsed my friend saying "How could you do this to me, how could you let me get into a car with someone like this, your friend forced himself onto me" He immediately called me, asked me whats going on, and I told him to come back and get me… Now Karabo, sees me crying and says, "whats wrong? Why are you crying Neo…. "
I gathered myself walked out and was walking out of his door, he comes after me and wants to talk as my friends had called him… he says to me, (This part is funny) –
"BUT NEO I DIDN'T RAPE YOU, I THOUGHT YOU WANTED THIS, YOU SNOBBISH GIRLS LIKE TO PLAY HARD TO GET… AND Y'ALL LIKE IT ROUGH, BUT I DIDN'T RAPE YOU"
I'm sorry WHAT??? Me saying No wasn't enough? Me pushing you away and fighting with you was me wanting this? Me crying throughout and constantly telling you to get the fuck off of me was me liking it rough… I was enraged! So much was happening, My phone was ringing non-stop… I just couldn't believe that this was happening, I didn't understand… so I get to the complex gate and find my friends are there, I had never been so happy to see them, I went into the car and I cried so hard… I told them I wanna go to the police station, Karabo tries to get into the car saying "Neo please don't do this, at least give me your number so we can talk"
I wanted to punch him in the throat, so my two friends drive me to the police station, im still in tears… I'm trying to tell my friends what had just happened, my brother is calling me, my boyfriend is calling me, it was too much, so I tell my brother to meet me at the Mondeor Police station, I tell my boyfriend something horrible happened and I'll talk to him in a bit, I was so scared he'd be upset with me…. We get to the police station and I open a rape case… one of the hardest things I've ever had to do but I'm so glad I did.. I thank God for the strength of seeing it through… more on that part here: http://studio83.co.za/news/2013/10/20/3993
Fast forward 3 months, I'm in a better place… I took back ALL the power I lost on that couch by opening a case and standing by it… See, I couldn't have known that this would happen… no amount of protecting myself would've changed this… Hard as it is, I will see this through… I will go through the humiliation… because… rape culture in SA is on another level of bullshit. I will go through victim shaming, I will go through his lawyer ripping me apart, but I WILL NEVER BACK DOWN.
You see the problem is that Society has made it so difficult for someone to come out and say they have been raped, it makes it so hard for someone to NOT drop a case, so hard for someone to be okay and move on……
By Neo Masilo
Follow her on twitter @neocentia
Facebook Comments