Boity launches first of its kind perfume with Halo Heritage called Boity Pink Sapphire
Multi-faceted artist, actress, businesswoman and media personality, Boity, has launched her own fragrance. Dubbed Boity Pink Sapphire, the perfume is proudly South African and first-of-its-kind eau de parfum. Boity Pink Sapphire follows her recent collaboration with Impulse on the Own Your Throne deodorant range.
Boity took to social media to share her excitement about the fragrance. And in a media statement, she describes the the various scents of the perfume as "powerful but elegant fragrance".
"The top notes that you smell at first are the sugar, the fresh tangerine and wild marigold. After a few moments, you'll smell the amber, jasmine, and French lavender and finally, the heavier base notes of ambroxan, moss and cedarwood bring that incredible depth – they balance out the sweeter notes perfectly. I just love it!".
Boity Pink Sapphire is manufactured in France and will cost around R1 500 a pop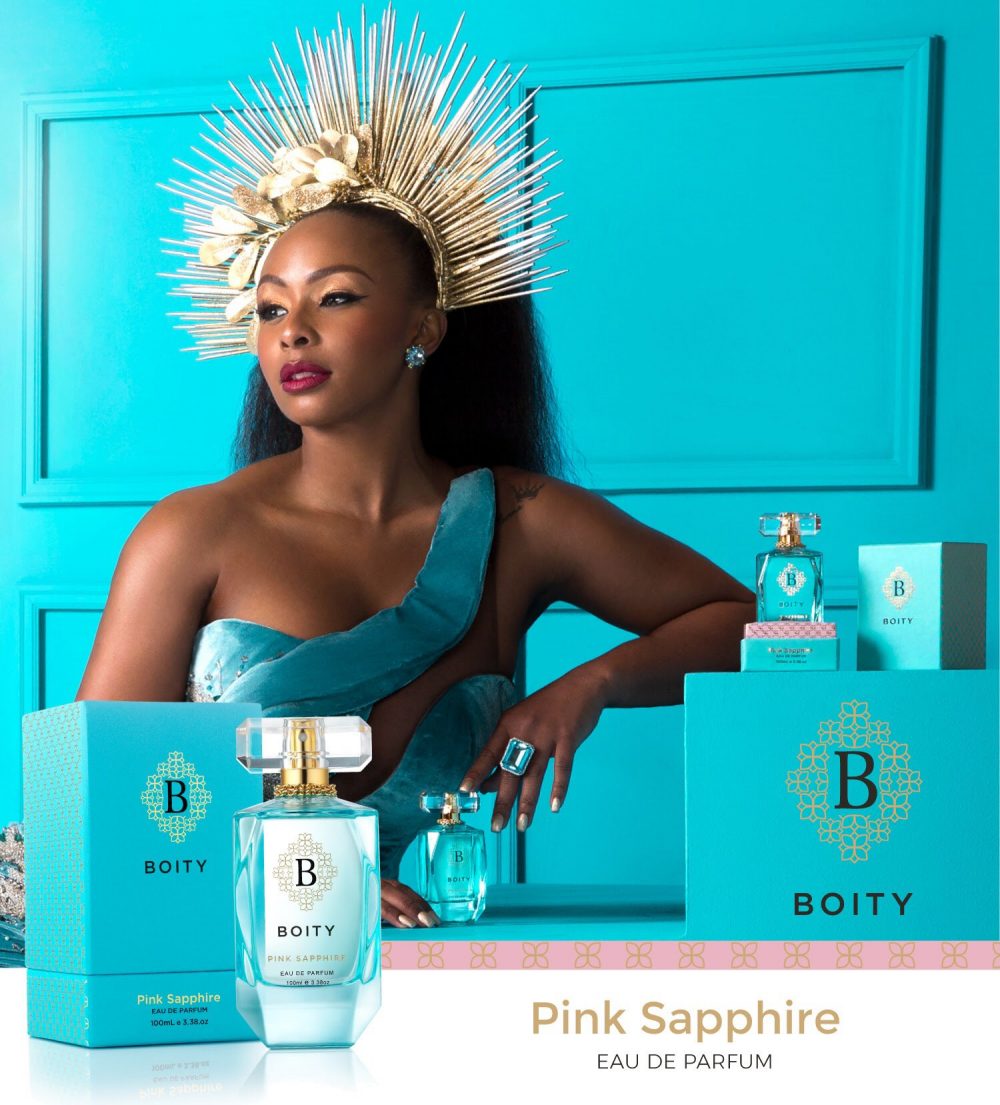 For this fragrance, Halo Heritage and Boity worked closely with French perfumer, Emilie Bouge, who brings over 22 years of experience in the art of perfumery. The fragrance is manufactured in Grasse, France – a town on the French Riviera that is world-renowned for being the perfume capital of the world. The highly concentrated perfume oil is then shipped to South Africa and used as the base for all the fantastic, locally produced products in the range.
The idea for the fragrance was to create a contrast between sweetness and strength, balancing Boity's soft sensuality with her power and capturing the duality of women in its unique blend.
For the bottle's vibrant, multifaceted jewel shape and packaging, Boity felt that the colour turquoise perfectly encapsulated the serenity and sensuality that Pink Sapphire represents. The fragrance's icon and embellished chain detail also hold quirky symbolism, an accent that she reveals, "is inspired by a necklace I wear often and one that people always spot on me. This was a way to add a personal touch and an emotional connection to the overall design."
Boity Pink Sapphire (R1495 for 100ml) will be sold exclusively on www.haloheritage.com and is available for purchase from 11 September 2020.
Will you be buying it?