Athi Patra Ruga has collaborated with the International fashion brand Dior to design two bags for their Dior Lady Art Project. 
The Umtata born visual artist, Athi Patra Ruga, has designed two bags for the Dior Lady Art Project. He joins Rina Banerjee, Maria Nepomuceno, Mickalene Thomas, Jia Lee, and Eduardo Terrazas who all designed bags for the fourth edition of the capsule collection. 
The artists deployed a variety of techniques — including quilting, embroidery, patchwork and printing — to customize the Lady Dior handbag, using methods drawn from cultures across the world. Priced from $4,000 to $14,000, Athi-Patra Ruga x Dior bags will be available in 27 Dior boutiques worldwide on Dior.com from January 2020.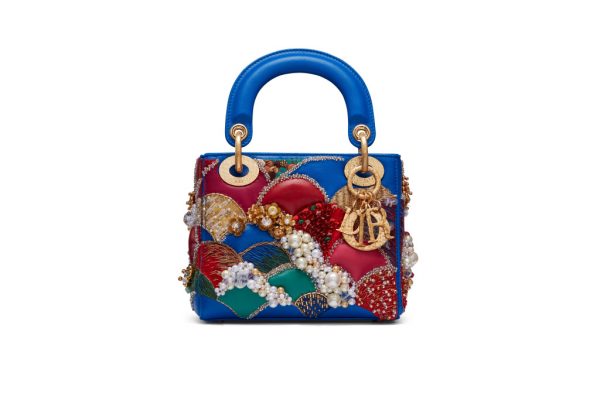 Before becoming an artist, Ruga studied fashion design at the Gordon Flack Davison Academy of Design in Johannesburg. 
In an interview with WWD, He said:

"It's a school that is very much based on technical brilliance, constructing everything by hand. If you miss a stitch, you unpick the whole jacket." 
That training has fed not only into his performance work, in which he embodies characters or avatars but also into his sculpture and petit point tapestries. 
Ruga creates work that explores fashion, performance and contemporary art, as well as themes such as sexuality, HIV/AIDS, African culture, and queerness within post-apartheid South Africa. 
Designs 
One of his two designs for Dior features a ghostly 3-D self-portrait composed of pearls, framed by crystals, fabric and metal flowers embroidered on a black background. The second bag, in blue lambskin leather, is adorned with a quilted scallop motif inspired by founder Christian Dior's famed Junon gown. 
Ruga noted that contemporary art has long frowned upon anything too aesthetically pleasing.  
"I think that's the modernist curse: if it's too beautiful, it's not art. For me, I find there's just something so punk about high fashion and high craftsmanship, which is one of the cornerstones of both my studio and the Dior studio. 

"Once you talk about the subject of textile art, we have to speak about the fact that it is highly gendered. Once one speaks of it reaching a tipping point, we are speaking about, and probably also indicting, the arts and creative industries for having quite a sexist view of craftsmanship." 
Ruga concluded:
"The art world has to also have the same energy in redressing how this art form that has always been viewed as this women's work, and not art, is now interesting. 

"Is that linked to a wave of women's liberation, or is it linked to the market? For me, those are the two ways to look at that tipping point."