An exhibition of new and celebrated works from one of South Africa's most prominent contemporary artists, Mary Sibande. 
In her first solo exhibition in the UK, Mary Sibande presents a series of photographic and sculptural works exploring the power of imagination and constructive anger in shaping identities and personal narratives in a post-colonial world. 
I Came Apart at the Seams follows the transformative journey of Sibande's avatar, Sophie.  
Taking form as a series of colourful human-scale sculptures modelled on Sibande herself, Sophie transgresses from her humble beginnings as a domestic housemaid into myriad empowered characters, transcending racial bias and marginalisation.  
Iterations of these striking installations are also captured in vibrant large-scale photography, documenting Sophie's journey.  
Through these works, Sibande pays homage to the generations of women in her family who worked as domestic labourers.  In sharing their previously untold stories, Sibande challenges stereotypical depictions of Black women in post-apartheid South Africa throughout history and today.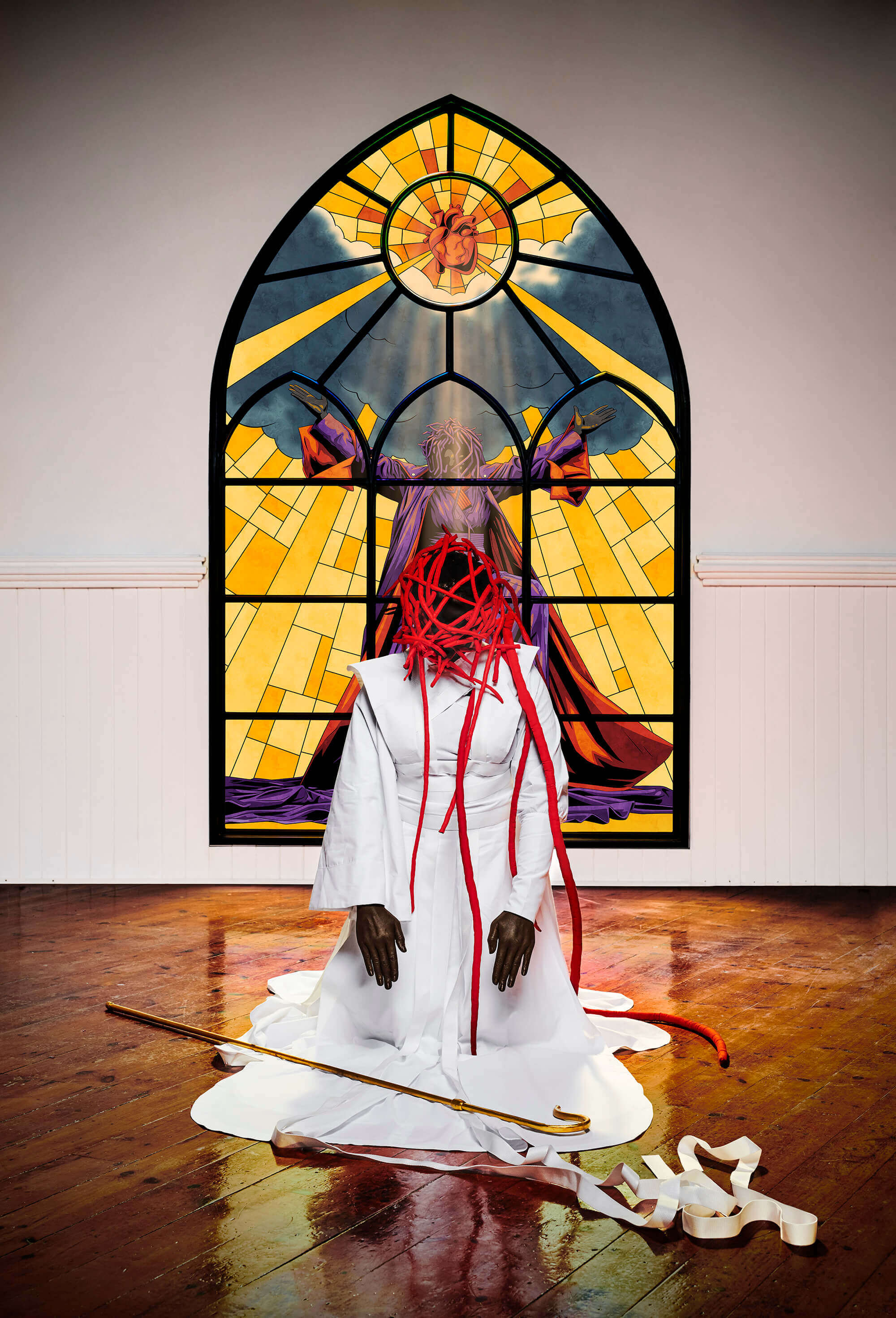 A multi-layered exhibition 
Sophie's metamorphosis is presented in three series of works brought together for the first time – Long Live the Dead Queen (2009-13), The Purple Shall Govern (2013-17) and the eponymous I Came Apart at the Seams (2019-) – that feature life-sized sculptural figures and photographs that are modelled on Sibande herself.  
Each series chronicles a different time-period in Sophie's transformation. She begins as a domestic worker and goes through multiple changes in character; every change sees her confound stereotypes and transcend the legacy of oppression to rewrite her position in both historical and contemporary narratives.  
Sophie is Sibande's way of honouring her mother, grandmother and great-grandmother and other generations of women who have worked as housemaids while critiquing the stereotypical representation of the women's bodies in South Africa. 
Long Live the Dead Queen begins the exhibition and introduces Sophie to the audience. She appears in a blue maid's uniform, along with a white apron and bonnet – the clothing the women Sibande seeks to pay homage to would have been defined by in their roles as domestic workers.  
This sculpture sees Sophie, with her eyes closed, break free from the constraints imposed by the uniform through her imagination and take the lead role in her own narrative, a luxury that Sibande's ancestors were not afforded. 
The colour palette of the second series, The Purple Shall Govern, is inspired by Cape Town's 1989 'Purple Rain Protest' where police arrested thousands of anti-apartheid protestors after marking them with purple dye.  

This phase of the transformation looks at the cathartic process of reflecting on one's past to make progress and cultivate new ideas and identities.  
The large-scale sculpture, A Reversed Retrogress, Scene 1 (2013), finds Sophie – no longer wearing her apron and bonnet – standing before her future self.  
Through this sculpture, Sibande interrogates how change affects the relationship between confrontation and liberation. 
The exhibition will culminate in a new series by the artist, titled I Came Apart at the Seams, which will chronicle the third stage of Sophie's transformation.  
The series will, again, use sculpture and photography to explore the collective anger about the rampant inequality in South Africa and will feature Sibande's newest recurring motif – the red dog – which comes from a common isiZulu expression, "ei ukwatile uphenduke inja embovu," which translates to: "he is angry, he turned into a red dog." 
I Came Apart at the Seams is on display in the Charles Russell Speechlys Terrace Room Series at Somerset House in London from the 3rd of October 2019 until the 5th of January 2020.