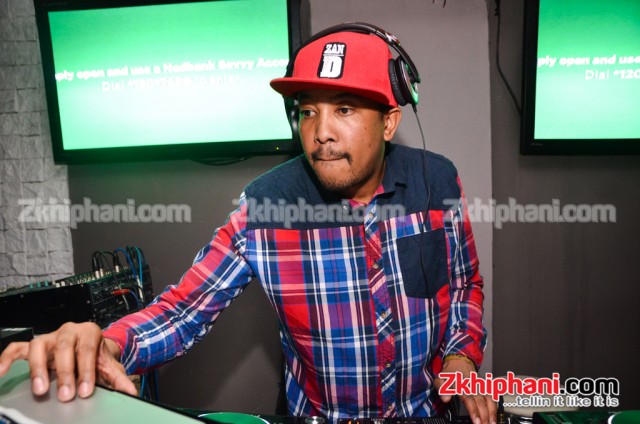 DJ ZanD (Zandi Ngwenya) is a radio and television personality. He has a weekly Thursday mix on YFM on their YTKO feature which he is doing now for the 3rd year. DJ ZanD also appears weekly on television on Etv's Club 808 show where he's a Video Mix DJ (VJ) and mixes videos live on the show. Music has always been a part of DJ ZanD's life. He grew up in a music motivated family. His father owned a sound hire company and later went on to open a night club, and his older brother was a DJ. He started mixing at the age of 12 under his brother's supervision, and by the time he finished school he was already featuring on YFM on DJ Fresh's show at the time.
Due to his love of music, DJ ZanD decided to move to the dance capital of the world, London, where he lived for over 6 years. He worked his way up from hosting house parties to playing in UK's top clubs. These included some popular bars in the heart of London such as: The Zoo Bar in Leicester square; Bar Room Bar in China Town and The O Bar in Soho just to name a few, as well as some UK clubs which included: The Cascade (Birmingham), The Warehouse (Norwich) and Club Roots (Tottenham).
Q: When did you start DJing and what influenced you?
A: I was born in a Family where everyone but my mother was a DJ. My Dad used to have a Sound System rental company and later opened a Night Club called The Dukes Place in Vosloorus. From as young as 9 years old, I was already playing records at home. My brother DJ Choc taught me how to DJ and I got my first paying gig in 1998. I've never looked back since then.
Q: What do you personally consider to be the incisive moments in your artistic career?
A: Joining club 808 in 2011 sort of took things to the next level. Prior to then, I was doing well but with Club 808, they gave me the National footprint.
Q: What do you usually start with when preparing for a set?
A: I always think about what new music has been released in that week then the next thing is to load and study those new songs in my DJ software. When studying the song, that's when I listen to the song over and over breaking it down to it's elements to see how and what songs I can mix it with. This is also where I find cool parts of the song that I would then use to play around with in my sets.
Q: How important is building a real relationship with the music you're playing for your own approach?
A: It's very important that you know your music inside out because what makes a great DJ is the music they play and how the play it.
Q: What makes you decide to play a particular record during one of your sets? Is there a criteria other than pure subjectivity, for selecting what to play at a gig?
A: This all depends on the crowd I'm playing for. It's very important as a DJ to understand that when you're playing, you are actually controlling people's feelings. Therefore when I select what song to play next, I always make sure that I select a song that will either keep the same mood or take it higher. Usually I pick a song that will increase the energy of the vibe in my gig.
Q: When there's more music than one can possibly take in, it is becoming increasingly hard to know what constitutes an original and a remake anymore. What's your opinion on the importance of roots, traditions, respecting originals and sources?
A: It's always good to know the origins of a song should it be a remake, remix or sampled song but as much as we need to respect the original song, sometimes the remix or remakes are just much better.
Q: Thanks to developments in the realm of software, DJing, playing live and producing have moved closer together than ever before, allowing DJ s to change a track down the tiniest detail. How do you make use of these possibilities in your sets and is there a benefit?
A: That is my favorite part of Djing, that is actually what I specialize in. Thanks to new DJ software. These days I'm able to play three songs at the same time where I'm able to rearrange a particular songs to make it better for the energy in the party.
Q: Do you feel a crowd is actually able to appreciate the intricacies of complex DJing, if they don't actually know what, precisely, is happening behind the decks?
A: Thanks to the internet, people now know what a good DJ should sound like. Crowds cannot be fooled anymore, they know better because of what they see on the internet. This is what made people like Dj Shimza and Kent to be as popular as they are. This has also been one of my strongest tools to make sure I stay ahead of the game and that one of the reasons I was able to win best hip hop dj in 2012/2013 lol.