INTERVIEW: One on one with DJ Doowap!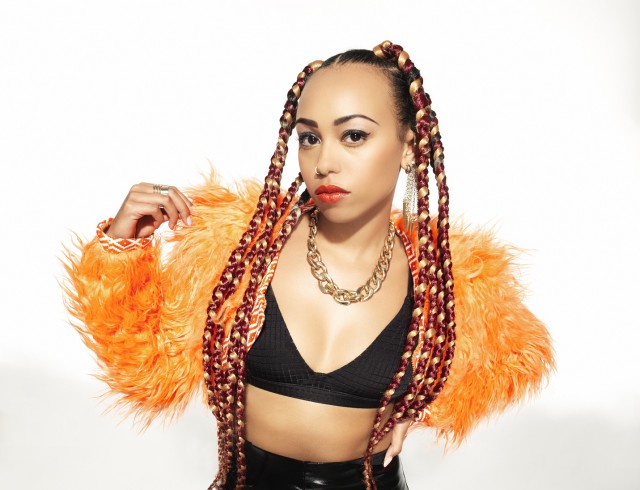 If you're looking for an entertainer who'll blast your speakers with the sickest bass sounds, then you had better turn your attention to DJ Doowap. DJ Doowap's love for music and DJ'ing was ignited while she lived in Montreal, Canada and in London, gaining work experience and studying a short course in Music production. After moving back to South Africa two years ago, she completed a DJ'ing course at DJ 4 Life, under the mentorship of Ian "DJ Ian Credible" Morrison.
She has been inspired to break down barriers with her style of DJ'ing by creating a mash up of Trap, Dub step, Drum-step and Hip Hop. As a trend setter and the best at her game, she joined YFM as the host of the Hot 99 Dubstep, and insane bass sounds have been banging through the airwaves ever since.
Q: What is the significance of celebrating woman's month?
A: Everyday should be a woman's day considering the fact that we are the creation of all beings and have the power to turn anything we touch to gold. So I guess giving us a day/month of recognition is the least that should happen.
Q: With August being women's month, what kind of woman would you like to project to the world?
A: I would like to project that I am a woman that can have and do anything I put my mind to. I am an independent, creative being that wants to forever inspire the people around me, notably the youth.
Q: Name three women that contributed to you being the woman that you are and why?
My Mother: She brought me into existence and gave me the powerful name "Khetsiwe". She is beyond beautiful and bursts with love.
FKA Twigs: she is the epitome of hard work, creativity and an enlightened existence with no boundaries.
My Sister: She was born on the same day as me, 6 years younger, yet she is an old wise soul that is forever injecting me with knowledge in both business and fashion.
Q: There is a lot of pressure for young women today project a and maintain a sexy image, how do you handle that pressure?
A: There is only pressure when you project it upon yourself. I know I am sexy and I enjoy dressing up to feel good about myself, not because there is any outside influence. Anything I put on is for my comfortability and my self expression at all times.
Q: Where do you see yourself in 5 years?
A: In 5 years I would have already made my mark in South Africa within the music and fashion domain and I will be taking over the world. I will be travelling around the world performing and getting awareness of my brand and vision. I would have collaborated with top brands and be in the beginning stages of creating a huge "Doowap" empire that dabbles in all things creative from visuals, to music to fashion.
Q: What's the best part of your job?
A: The best part of my "job" and life is that I am my own boss and that every decision I make is for my future.
Q: Name three things that you would take with you to an island?
Anything to play music off of
Notebook
Pen
Q: Best book?
A: The Alchemist by Paulo Coelho
Q: What is on your playlist?
A: Right now it's Old School Kwaito and UK Grime
Q: Name five people that you would like to host for the ultimate dinner party?
FKA Twigs
Azealia Banks
My lover
Kanye West
Rihanna
Q: What is the one thing you can live without? (be honest)
A: My Phone
Q: What are the biggest challenges you face in your industry?
A: The people in our industry are narrow minded and don't like experimenting or taking risks. You always see the same names on the line up and it's not because of talent but rather because of money. If the promoters were about talent and variation our parties and industry would be a lot more exciting.
Q: What is the best gift you've ever received?
A: My Native Instrument Machine from my dad for producing.
Q: You Love experimenting with your hair, which "Hair" do you prefer? Weave, braids or natural hair?
A: Whatever I feel like at the time. I can rock any hairstyle and kill it.
Q: Name five things that people don't know about you, that you sometimes wish they did?
A: I don't care what people know about me, but things that do tend to surprise people:
I speak french fluently
I use to live in Montreal (Canada) and London (UK).
I am half British half Swati
I was a Springboard Diving Champion for South Africa for years
I am Asthmatic
Turn up on Dubstep Wednesdays on the Hot 99 Dubstep with DJ Doowap every Wednesday from 9am-10am and 9pm-10pm only on YFM.
Facebook Comments