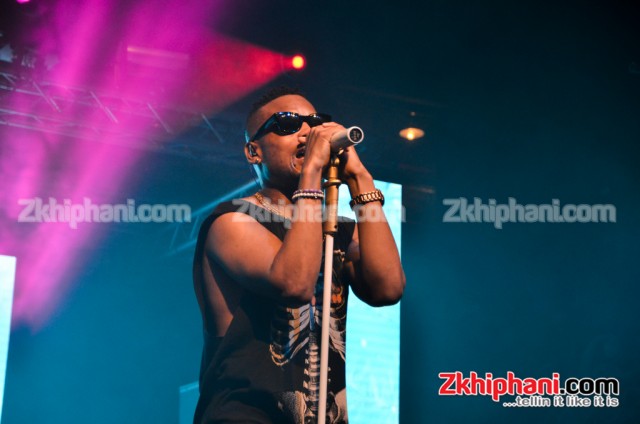 The Skhanda Gawd K.O does the most when it comes to music and this time it is no surprise that he is packing heat. I'm talking about hit tracks such as Skhanda Love, Papa Action and now recently Bang Out. This time he is back with a brand new track and it's got people's tastebuds tingling. I know kats that cannot wait to hear his adlibs on this track, imagine!
The track is called Korruption and he is planning on dropping it this coming Friday although it has made it's debut on big radio stations such as Metro and 5 Fm. Now you know we've got hook ups so we've heard this track and let me tell you, I haven't stopped bumping it! 
The beat was produced by Scales, Lunatik & Tsholo and co produced by Mr Cashtime himself. It was composed by Tsholofelo Moremedi who has worked with the likes of the deep house outfit Meat the Veggies among many others.
In the song he raps about getting the steam off and going out and spread iKorruption. He wants to have house vibes type of thing, ilala vuka and have some fun and yeka u'bserious. Mr Cashtime brings his amazingly chilled and laid back flow to this track. This is a party song that isn't too loud, one can just sway back and forth to this in a chilled setting.
The line that made me smile to myself is "guga mzimba, sala nhliziyo". It's an old Zulu saying which means that body may grow old and weak and frail but the heart will forever stay young. Some of my other favourite lines are "gada umuntu wakho, uyeka mina. Ngi nga nyamalala naye nomi yinini", haha, which basically means stop focusing on me and focus on your girl because I can take her anytime. Talk about swag. K.O's hook game is always on point and he didn't disappoint.
Lyrically, I don't think it's a strong offering. I don't know if it's because of the type of track it is or it's the vernac but I'm not feeling it on a lyrical tip. But then again, some tracks are not meant to be deep, some are just meant to make people feel good and get them into the party mood.
The fans said the most on twitter after hearing this track. Take a look at the tweets below
🚨🚨🚨🚨2 more sleeps B4 the GOAT @MrCashtime drops Korruption🔥🔥🔥🔥We ready to get Korrupted…

— Justice Seunaldo7 (@justiceBIYO) July 12, 2016
@MrCashtime
KOrruption….aziwe baba ..👊👊

— lelokuhle (@lelokuhle3) July 13, 2016
The new @MrCashtime is fire flames!! Korruption!

— King (@Nevie_Nev) July 13, 2016
So @MrCashtime is dropping #KOrruption this Friday!! 🔥💕 Si On..I cannot Wait!! 😊😊

— #KOrruption ❤ (@AirnclearBaby) July 13, 2016
I already can't wait to see the video for this track. Can you image a house party type of vibe or better a pub scene ya se kasi. It would combine the grime of the hood and the suave and cool stylings of K.O.and his baraclava and gold chains. Anyway, the track is fresh and easy on the ears and does what I suppose was meant to do, make people want to party and have fun.
Are you also eagerly awaiting for this track to drop? Let us know!
Facebook Comments