25K drops highly anticipated debut album, Pheli Makaveli, a project curated by Zoocci Coke Dope
Today, Atteridgeville born rapper, 25k 'The Plug' finally drops his debut album Pheli Makaveli. Pheli Makaveli arguably the most anticipated hip hop release of 2021. The 10 track album is curated by Zoocci Coke Dope and featuring Emtee, Maglera Doe Boy, A-Reece, Zoocci Coke Dope, Killer X and Flvme.
Read more: #NewMusicFridays: 25K Drops First Single, "Pheli Makheveli (Intro)" From Upcoming Album
Pheli Makaveli tells the gripping tale of a young hustler on the come-up. "The project is about my upbringing, my story and my journey before the music and when I fell in love with the music. It sums up a bit of everything about me from back when I was in the streets, hustling, when I used to stand on the corner, hoping to make a little sale."
The story of the album begins with him meeting Zoocci Coke Dope, who produced and curated the project. "I met Zoocci when I had just shot the 'Culture Vulture' video. He told me it's one of his favourite songs and that's why he hit me up for a studio session. We knocked a beat out immediately, and after a few sessions with him, he said that I should release the songs we're recording as an album."
It was also Zoocci who suggested that he should name the album Pheli Makaveli. "Zoocci sent me a random text saying I should name the album 'Pheli Makaveli' because I'm from Pheli and influenced a lot by 2Pac and the West Coast. Every song we recorded after we put a title to the project, started making sense."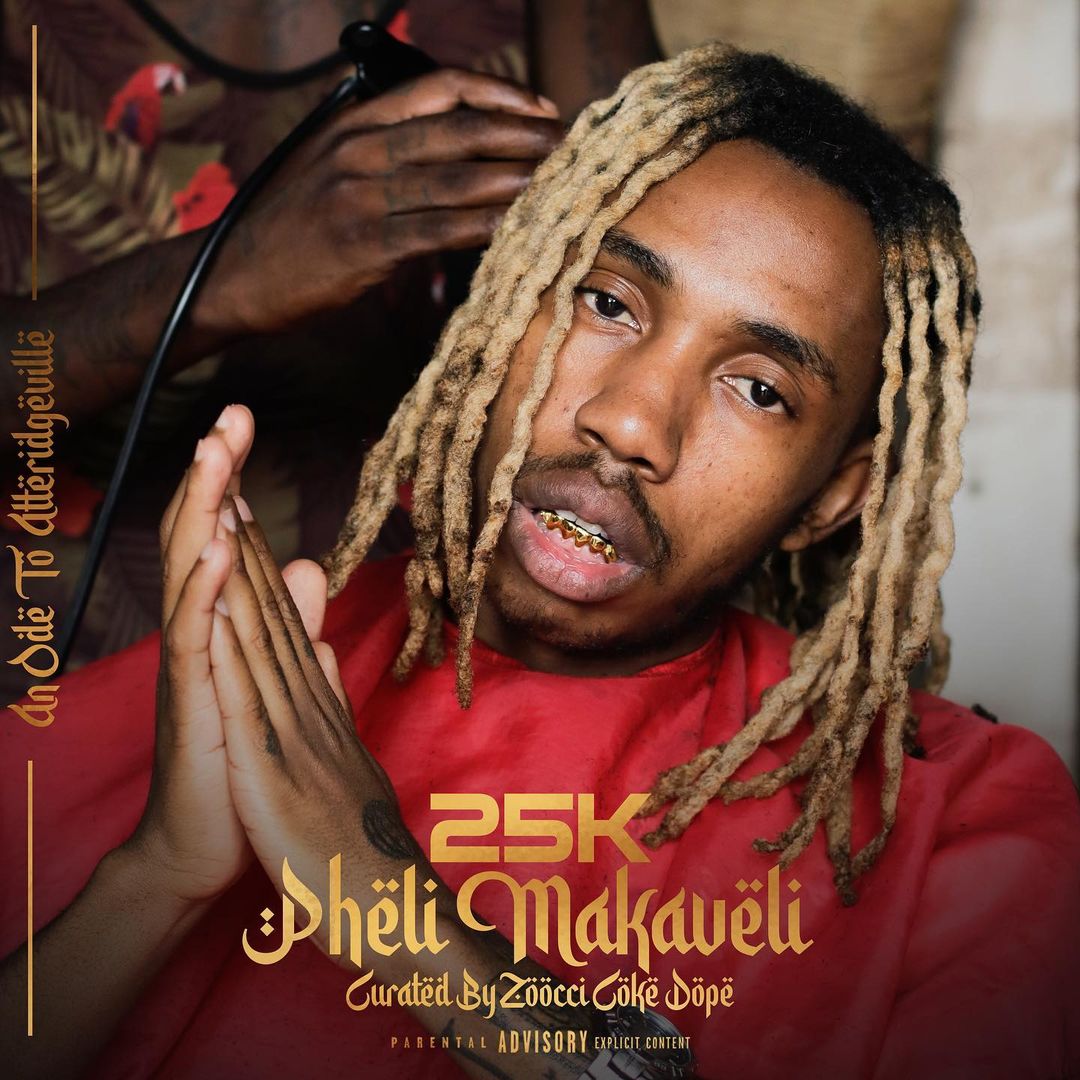 On Pheli Makaveli, 25K tells us about gritty stories about the hood against the backdrop of edgy beats and strategic features
Pheli Makaveli (Intro) encompasses the rappers then-current state of mind and that of the hip hop scene. It also tells a tale of his journey and accomplishments. The inspiration for the entire song came from the melody of the sample in the beat. The outro skit is a news report from Atteridgeville that showcases the daily lives in the hood.
Track two Blarofonia pays homage to the west coast and Omerta is of an oath. Firstly, it is an oath to brotherhood with his homies, secondly to never letting his mother down and ultimately himself and his contribution to the game. It is about holding each other down and never succumbing to culture vultures.
A-Reece features on the fourth track to solidify the Hustlers prayer. Trap Jumpin' features wordplays, street slang and an outro skit featuring the infamous gangster Maleven.
The second half of the album sees a guest appearance by Emtee the Hustler, one of 25k's biggest influences. Track six Self Made is all about making it from the bottom up and not switching up when you get there, so it only made sense to feature the Goat. While Dagwood follows with flows and rhythms about females and never catching feelings.
Joints like Apple Soda Record Deal sees him show off his rap skills. The outro skit is by 2pac from Source magazine interview that 25k relates to as Makaveli never minced his words and always got his point across.
Pheli Makaveli ends with Kings Gambit Bag featuring Killer X and Quarter To 6 alongside Maglera Doe Boy.
Stream and purchase Pheli Makaveli on all major digital stores.