Nadia Nakai has not always been known to be a very lyrical rapper but she has always managed to impress mostly with her hunger. Ever since signing to Family Tree earlier this year, she has grown as an artist and managed to cultivate a sound of her own. Everybody sat up and took notice when she dropped The Man and there is more sitting up to be done.
Earlier this week, Family Tree first lady Nadia Nakai announced that she will be dropping new music today. True to her word, she dropped her 5 track EP titled Bragga which features Cassper Nyovest, Tshego, Gemini Major and Yung Swiss. She lent the production talents of Gemini Major, Ganja Beats, Nat Powers, Playground Productions, Mae N. Major, K Beats and Tshego.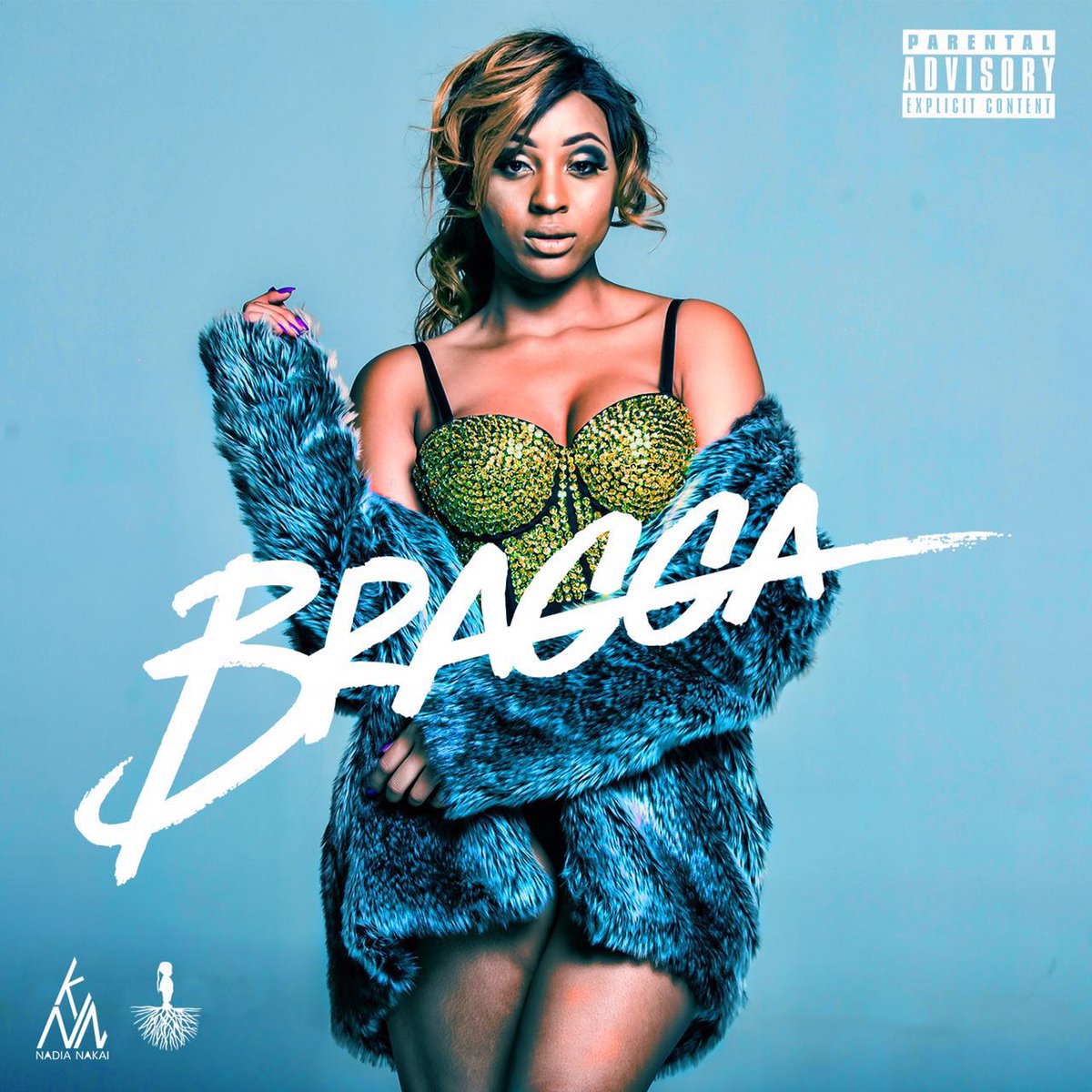 On 100 she features Tshego, the Trap Soul crooner and they turn it out. The track is about keeping things honest and not fronting on anyone.  On Don Dada she enlists the ragga flavours of  Gemini Major and Nakai shows us that she can also rap in Patwa. The track is quite sexy and sensual and judging from the lyrics, you'd want to "F#$% with the real Don Dada".
On Paying, featuring up and coming rapper Yung Swiss, she strictly states that she is in the club "only coz they're paying" and don't get it twisted. She also raps about how rapping is her full time job. Yung Swiss is a hella skilled rapper and brings his freshness to this track without being too much, "Nowadays it's hard to tell what's what, nigga's act like bitches. So even if a nigga got a black belt, we can't even kick it".
Don't Cut, just like The Man, is a club joint and she is being straight up and saying their style doesn't measure up. And in this joint, she is clearly still on that steeze: "Just getting started, bitch I've been about it. Your shit wasn't dope so they cut it".  In The Man she threw some jabs at NoMoozlie claiming that "Imo drop a bitch this is Cash Time". She goes in with this track and places herself ahead of the rest.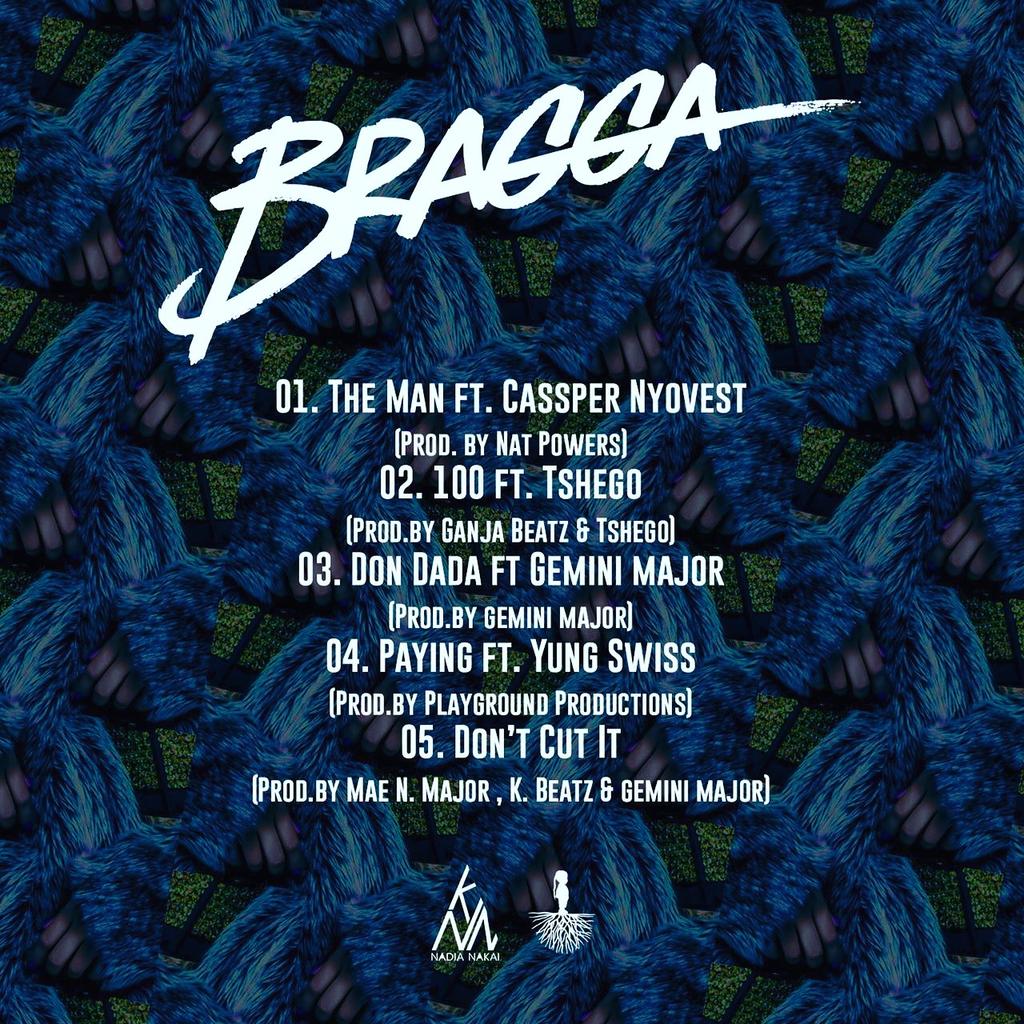 The response from her fans has been major, check them out!
@nadia_nakai The whole #Bragga Ep is dope I love them all but I fuck with don't cut it and 100 the most 🔥🔥🔥
@Nadia_nakai i need some answers, did you wake up on the wrong side of the bed and decide you were gonna kill every song on that EP? #Bragga

— Lennox Serojane (@SerojaneLennox) September 15, 2016
— IG:Katmokgopa_14 (@KatMokgopa_14) September 15, 2016
BRAGGA BRAGGA ‼️ #Bragga EP now out!! This EP is 🔥🔥 I love every vibe on this. #dondada 🌊🌊 "I'm… https://t.co/WnhALiRINZ

— Mae N. Maejor (@MaeNMaejor) September 15, 2016
Job well done queen @Nadia_nakai#Bragga is flames 🔥🔥

— Tebatso (@Tebatso_2) September 15, 2016
#BRAGGA by @Nadia_nakai got me like!

🔥🔥🔥 pic.twitter.com/zzhA5TKO4W

— P🚀R🚀D🌈SE. (@KGATHATSOTWALA) September 15, 2016
@Nadia_nakai ft @OfficialTshego keepin 100 🔥🔥🔥🔥 #Bragga pic.twitter.com/xQjrO1fBpi

— Guuz (@GuuzP) September 15, 2016
Props to @Nadia_nakai that #BRAGGA is hella lit. Maintain the standard.🙏🙌🙌

— Thapelo Matshwane (@Teepla) September 15, 2016
#Bragga sounding super amazing!, Super Special typer isht… Long awaited a project from @Nadia_nakai man!! S/O to @familytreeworld

— Cheryl's Hubby 😂 (@ChuckeeLeeRay) September 15, 2016
Only like Don Dada off Nadia's bragga but that's jus me … well done #Bragga👏

— De Bonnes Vibes (@Diketso101) September 15, 2016
@Nadia_nakai @CassperNyovest the face you get when listening to #Bragga , u gon be like "eeeh ngwano wa fisha 🔥🔥 pic.twitter.com/8IoYWYH2UK

— #HUSTLETATION (@moeti_matlala) September 15, 2016
This EP skillfully displays Nakai's versatility and growth. From the rawness she shows on The Man and the smoothness on 100, there is something she is cooking up. The range and variety of the producers that she has on the EP help to keep it interesting; the songs do not have the same style but they all go together cohesively. The overall sound of the EP works! There is still lot to come from her and we can't wait for the full album.
Stream the EP below!
[soundcloud url="https://api.soundcloud.com/playlists/259362103″ params="auto_play=false&hide_related=false&show_comments=true&show_user=true&show_reposts=false&visual=true" width="100%" height="450″ iframe="true" /]