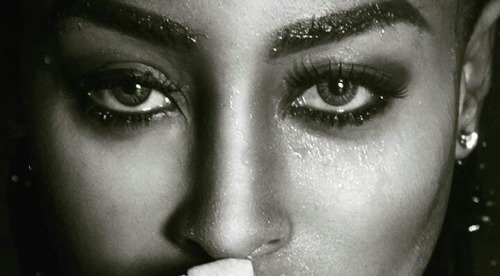 They say that your eyes are the windows to the soul; well, if that's case, you better make sure that those "windows" are gorgeous and well dressed for those who are trying to look in! Eyelashes are one of those features you're either gifted with or you aren't; and although you can never really change your genes, you can enhance what your mama gave you (or didn't give you)!
Do you ever look at the mascara isle in the store and get confused? Have you ever looked at all those mascara wands and wondered what on earth each brush does or which brush you should even buy? If you answered yes to any of these questions, then you're in luck because we're about to break it down to you in this Mascara Brushes 101 edition!
Curved brush type
What it's for: The curved brushes are best used for curling your lashes. If you're one of those people with straight lashes and need some curves in your life, then this is the brush for you!
What it will do: When applied, this brush will make your eyes pop by making them appear bigger and more open. The curve must face upwards when using this brush.
Thick brush type
What it's for: Thick is for volume! This is the most common mascara wand and is perfect for those with thin and short lashes!
What it will do: Use this baby if you want full, dramatic eyes.
Straight, Long and Thin brush type
What it's for: To get the most natural looking lashes, this brush is your winner! Because of it's shape, the brush targets each lash from root to tip, at every angle – even those pesky, hard-to-reach corners!
What it will do: If you want added all-round coverage, length and vava voom, then choose this brush! Do keep in mind though that it is best used by those who already have thick, long lashes as they get the best effect from this wand.
Ball Shaped brush type
What it's for: This is a modern wand style that's kind of new in the game of mascaras! It works by widening the eyes and separating every lash. Due to its shape, the wand allows you to work in small sections without smearing mascara all over your eyes!
What it will do: It'll give you the most accurate application and define every lash, in the direction that you want, without clumping. The wand gives good volume but slightly limited length! It also works very good on the lower lashes!
Now that you have been schooled, we hope that mascara shopping will not be as daunting as it has been for you in the past! Go on and let your "windows" do the talking!
Tell us which mascara brushes have worked best for you in the past!
Facebook Comments