Meet NARDSTAR*: A visual artist doing her thing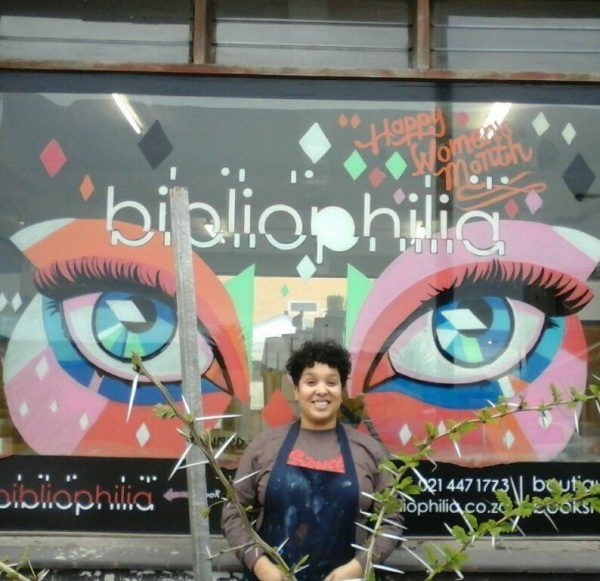 NARDSTAR*'s murals can be found in New York, Paris and her hometown, Cape Town. 
NARDSTAR* whose real name is Nadia Fisher, is a visual artist pushing the limits of street art around the world. 
She is the daughter of well-known journalist and editor Ryland Fisher,who she attributes for her fearless nature. 
According to her bio she has a tranquil presence, a deep-rooted connection to her origin and clear perspective on the journey of her art.
Currently based in Cape Town, South Africa, her reputation crosses borders with international recognition as a key player in modern street art culture. 
Recent work 
She was recently invited to the 6th Annual Festival Concreto in Fortaleza, Brazil.  
She spent the first two weeks of November meeting artists from different parts of South America, exploring the seaside city, and most importantly, painting a mural titled 'Like-minded'. 
According to 10and5 the mural portrays two women – one from Africa (left) and another from Brazil (right) – as a continuation of her commitment to painting portraits of women of color.  
The overflow of beautiful, black hair encourages women to celebrate themselves and their natural beauty. 
The mural features the indigenous South African Protea flowers, as well as a Brazilian Corsage Orchid with an Ipê.  
The choice of these two features serves as a connection between Brazil and Africa, particularly because the people of Brazil have African heritage. 
The mural also aims to depict that, as people, we are more similar than we are different and even though we might live on separate continents and speak different languages, we can still have a shared consciousness. 
The artist 
An essential element of her work has been to stand out, in her style and the message purveyed through her art.
Bold lines and bright, carefully considered colorways are signature elements of every piece, while the subject matter tackled knows no bounds – no risk is too daunting, no challenge too large. 
She told Design Indaba: "Right now, I'm focusing on portraits of women of color because I feel it's important to me as a female, coloured artist to represent women that look like me especially since I am always like one out of a million men," she explains. 
"In this industry, there are more men and even in the art world, there's more male than female artists." 
By staying true to her signature style, she juggles passion projects and commercial work. 
"There's two sides to it. There's the pure side which is just me painting in the street. I'll find imagery that inspires me or choose content that I think will be impactful of the street," she explained. 
Mural Projects 
Mirror on the Wall 1 & 2 (Collab. with Falko)
A cluster of murals painted on a farming settlement in Philippi and at Westridge High School. 
The Darling Made Me Do It (Collab. with Falko) – A collaborative mural project that involved painting +/- 50 murals on 27 houses in one road. Artists spent an extensive amount of time living and painting in the rural town of Darling, turning the road into a tourist attraction. This was completed alongside artist, Falko One, sponsored by Adidas, The British Council and Sportscene. 
Bushwick Collective (Brooklyn,NYC)
An ongoing large-scale mural project in New York City. 
Grafikama (FR)
An art residency in Nantes, France. Artists had an abandoned building to transform into an exhibition. 
Check out more of NARDSTAR*'s work here. 
Facebook Comments