We speak to Pilani Bubu, an artist that is passionate about preserving folkloric African stories. She tells us more about her music, her inspiration and her desire to archive and keep African stories in mint condition. Read the full interview with Pilani Bubu below to find out more about the artist.
For formality, who is Pilani Bubu?
At the core, I believe that my existence and purpose is well capture in the name given to me by my grandfather : Pilani, which means live, and be well. And in all of my work I try to live by name in engaging, enlightening, empowering and encouraging others to live well. And that is to make their own contribution to the world with what they do with their time, purposefully. The thing that brings about that magic and transformation is creativity, we are co-creators of life and this is why I call myself a 'Creative Lifestyle Activist'. Enlightening people about this collective consciousness is what I have honed in as my purpose. The power to bring impact through creativity can be best harnessed when we live our passions. I live to activate all my passions, to live by example in everything I do with my music, my design work and the creative projects I take on. And so in pursuing and activating the power pf passion as a singer-songwriter, performer, as a television host of a interior design TV show: Design For You and a branded content creator. I also spend my time on worthwhile projects, designing products that serve a purpose like sustainable suitcase covers, to reduce the use of plastic wrapping and developing textile industry and heritage through a local homeware collection and working with other social enterprises to rise up to their mandates and campaigns for greater good.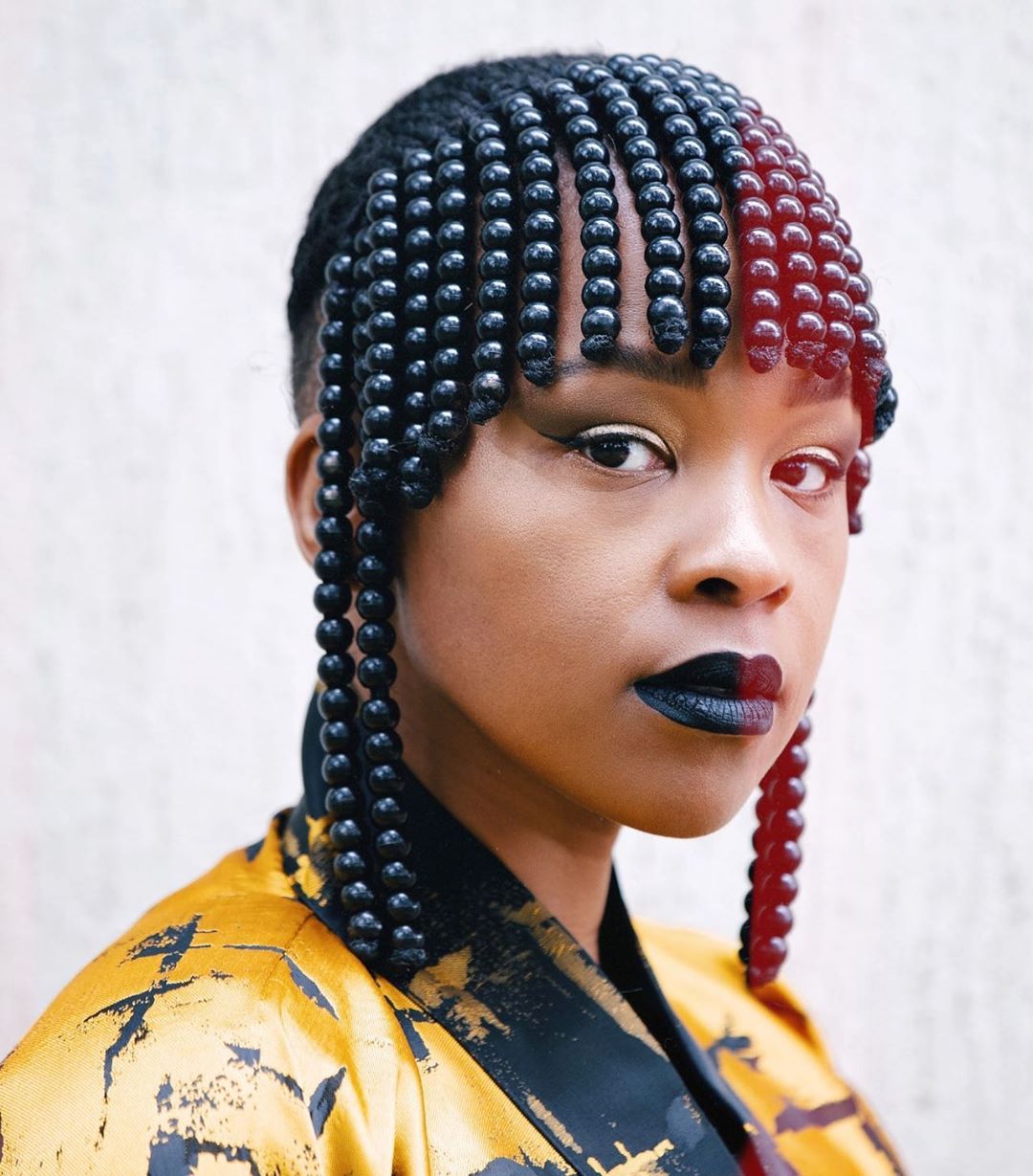 In your latest Quarantine Nostalgia series, you've expressed your desire to highlight folkloric African stories. Why is this important to you?
A sense of identity has the power to create greater confidence and a sense of self in future African generations. A lot of our belief systems have been replaced by western thinking with decades of colonization – there is a lot of restorative work to be done and culture and heritage has a big role to play. Generations of African History has either been destroyed or undocumented. We owe it to ourselves to not only tell our stories by word of mouth but to document these. It is important to take what we have left, interpret it, give it meaning so that it may last longer in our spirit and minds as a positive source of knowledge and sense of knowing for all cultures but most importantly for Africans. We are all sources of folkloric content that's been passed down to us and with the awareness of how little story telling is happening in our households, may we look deeper to restore the fireside setting that built up so many positive African social structures in the past.
What is the Afro-Folk sound and how did you choose this sound as your signature as a musician?
Getting to this place was an organic process that came about from traveling and looking to the global scene. That scene forced me to look back to where I come from and also what I carry with me in my origin. My previous albums served to people music they already knew and they embraced it, but my origin had something new to teach them and that became more purposeful to me and more attractive to audiences. I simply responded to the call and started curating relevant afro folk music as demos to showcase my origins and the music of my people. I hadn't gone as far as calling it a new signature sound, but it may very well be as I plan to spend my life time curating and becoming a custodian to folk music and folkloric content. I have big plans!
Your single Boom Che, what was the musical inspiration behind the song?
The song was initially inspired by the rhythm that the title implies: Boom boom che…stomp stomp clap or kick kick symbols – if you play the drum but I sang the rhythm instead and then as I did that an old folk song popped into my head about women gathering firewood and the stories and songs that went with – 'Theza Inkuni'. So I fused the two. The more I sang this fusion over time, I asked myself: So what? What does it mean? And I analysed the activity of women going out to gather what was needed in homes in the past to create warmth, cook and nurture and the story is still the same today, we are incubators of life and home and women should be celebrated for their commitment to birth human beings, always raising their children and are more likely to be present and be the home makers.
You are very vocal about the role that women play in society, this is a very prevalent theme in your music, namely "Theza Inkuni". Do you believe that creativity and life are innately feminine?
We often don't express the feminine side of God. If God is the creator and we birth life then surely God has a feminine side. In the song I a-liken women to Mother Nature and I imply that Mother nature sits at the right hand side of God in creating life. And that is how prized we are. And we women always heed to the call to the continued existence of the human race – we bear the burden of the wombs within us.
Please shed some light on your annual pilgrimage to New Orleans to showcase your music there and how that came about.
When I started my solo music career, New Orleans was one of the first places I travelled to perform and share in my music. I had just finished recording and printing 'Journey of a Heart', 2 days later I went to New Orleans. I was meant to be there 5 days and ended up staying 3 months. The day I landed, I performed on stage with some of New Orleans greatest talents in Armstrong Park – In front of the statues of Louis Armstrong, Mahalia Jackson…alongside Kermit Ruffins and the likes. Magical and transformative events unfolded as Irvin Mayfield invited me to perform at his jazz playhouse and I got to sing 2 songs with Jon Batiste at Café Istanbul…that city holds a very special spiritual place in my life and heart. I made an annual return to plug into the energy that it fuelled me in the beginning. As the birth place of Jazz and one of the most musical cities in the world… it embraced me, affirmed me and showed me that I deserve to be on the stage and that music is my rightful place. It built my confidence in myself and my style. As a result, without noticing, it became the place where I have piloted everything. I did my first ever solo show for Journey Of A Heart in New Orleans, I wrote most of the music in 'Warrior of Light' as a response to the experience I had in New Orleans. My first afro-folk demo was inspired by me going back to New Orleans in 2015 to give them what they loved, and in 2017 in New Orleans I piloted the first band show for the Folklore repertoire.
Lastly, what do you aim to do with your music in the current sonic landscape? What is your artist statement?
The album is only the beginning or proof of concept (as I call it) of a bigger idea I am seeding and working on. The project Folklore is a community culture and heritage project where beyond the technology of music, I in collaboration with as many people as I can, will capture folkloric content in a documentary format as audio, visual, and literature. We have begun these efforts with a fundraising arm selling merchandise for Chapter 1 to be fulfilled. You can see all on www.folklore.community. We will be bringing Chapter 1 to life in the Eastern Cape – particulary Eastern Mpondoland. I also have a residency scheduled in Ghana to work on Folklore in their Ghanaian heritage landscape….and many more cultural sonic landscape