The recent Wild Bean Design-A- Cup competition that saw over 300 young South African's from across the country showcasing their most unique artistic interpretations of the concept of celebration. This year's theme, My Cup, My Expression was as poetic and reflective of the yearning spirit of most creatives during this time. Out of 300 submissions which were vast and rich in a array of references spanning across many different cultures, student Kelly Nsenda shone through with her magnificent display of artistry. Her design which she describes as, "A party in a cup" displayed superior artistic talent and a cup load of fun.
Nsenda, who describes herself as a create at heart with a passion for art, design, music and literature, illustrated her interpretation of celebration on the traditional wild cafe bean coffee cup. The young artist shares how she found out about the competition through her lecturer who had sent out an email informing students on the opportunity that lied ahead. Kelly entered the competition unassuming of the title she was about to hold after the tough judging stages. " I was shocked mostly when they selected me as a finalist because I never could have anticipated that I would make it that far considering the amount of entries and all the talent I went up against." Nsenda expressed the wave of emotions that initially overcame her when she entered the competition "I was mostly nervous because I did not know what to expect" shares Kelly. "I knew it was a big competition and that added some pressure."
Well it is safe to say that her talent trumped most as she has advanced to the final stage of the challenge. When asked about her design Nsenda reveals that her inspiration was rooted in on of her greatest passions — music. "The minute I heard the word celebration I thought of what celebration meant to me and I thought of music." says Nsenda , "I've always loved the history of music so I really wanted to integrated instruments of African origin and just create this celebration on the cup with confetti, the instruments playing and the dancing beans". shared the young creative. "I focused on incorporating instruments of African origin to embody the impact African culture has had on music and celebration. I interpreted it as a party in a cup."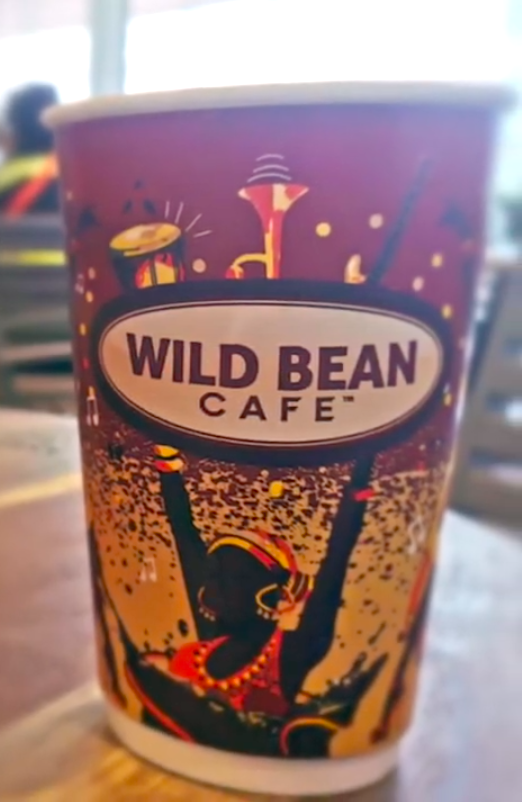 As a young creative, every artistic offering always seems to take on an effortlessly cool, however Kelly shared that the process of creating her design was not entirely a smooth ride. "The creative process was stressful but overall rewarding because I love colour and along with the given theme I enjoyed the challenge of creating something that would truly represent Wild Bean."
So what lies ahead for the creative student after being adding the title of 'Design – A – Cup runner up' under her belt ? Kelly says she plans to continue expanding on her skill set, look into short courses, internships and enter even more competitions. "I will continue to expand on my skills, look into short courses, internships and even more competitions. Nsenda expands on the competition experience by sharing her her feeling towards the whole process. " This competition was such a great experience that I thoroughly enjoyed, so I would definitely do it again.
The young creative got a warm congratulations from Head of Wild Bean South Africa, Danielle Croza  at the award ceremony. a take away from the finalists that Croza and the judging panel were partially chuffed about was the incredible diversity seen in the group. We've got a very diverse group of people who are all female which is fantatsic" states Croza. " This group is very diverse representing South African in a unique and meaningful way'.
One thing Kelly Nsenda not about to do is limit herself. The artist is eager to opening up her skill set to an abundance of development avenues to cement her ability as a well rounded artist. Keep a raised ear to the name Kelly Nsenda because it is not the first and most certainly will not be the last time you hear of her.