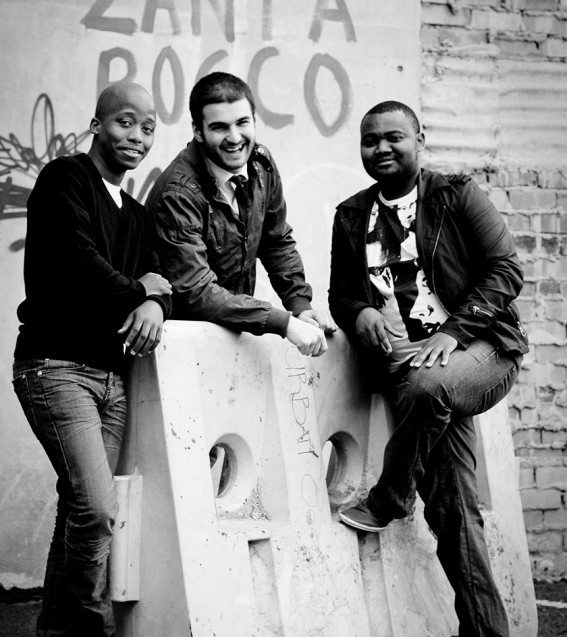 Hot on the heels of Mi Casa's triple award success at the SAMAs, including the coveted viewer-voted 'Song of the Year' for 'These Streets', The crew's brand new video for 'La Vida' proves that the band plans to keep fans enthralled on stage and on screen. They keep the momentum going with a groundbreaking new video for their third single 'La Vida'— a warm, summery house track with Portuguese lyrics. The single is taken from their Gold Award-winning debut album 'Mi Casa Music' which was released on Soul Candi Records in 2011. This is their third video to date, following the huge success of 'These Streets' and 'Heavenly Sent'— each video being viewed well over a hundred thousand times on Soul Candi's official Youtube portal alone.
Several months in the making, the 3D CGI-animated video for 'La Vida' transports the three band members into a world of plastic block toys. While on holiday in Portugal this January, J'Something (Joao Fonseca) and his brother came up with the concept for the video and after discussing it with the other band members, set the wheels in motion to make the concept come to life. Two Portuguese animation and design companies were behind the design and they've achieved thrilling results.
"Every time we do a video we always set out with the goal of making something new and fresh", explains Fonseca (J'Something). "We always try to produce videos and music that are down to earth, that people can relate to – we want to make videos that make people happy rather than flaunt a superficial image".'La Vida', meaning 'Life' is a love song and the video's story follows the band's producer Dr.Duda, who meets a special lady online. She invites Mi Casa to perform in Brasil and the video follows the band's journey to Rio de Janeiro where they perform. "Essentially it's a love story," explains Fonseca, "the chorus of the song means 'life's so beautiful it makes you cry' and Dr.Duda shows Maria just how beautiful life is through music".