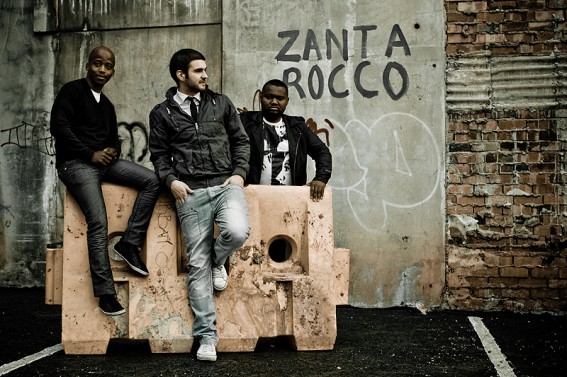 Mi Casa is a band with unique individuals who bring their explosive talent together to create a unique and original sound. The band members (Dr Duda-Producer and club dj, J-Something – vocalist and guitarist and Mo-T – Trumpeter) blend their musical talent to create a soulful sound which incorporates soulful vocals, the guitar, keys and the trumpet. We had a chat with them and this is what went down:
Q: Wow, you guys have been in the game as a crew for barely 9 months and yet you are very successful, why do you think that the South African public has welcomed your music with such warm hands?
A: I think it's the sound, the perfomance,and the attitude of the team. We are down to earth guys. Just wanting to make people smile with music. The message behind the music is also very pure and people are able to relate to it.
Q: Your first single "these streets" was a hit on you tube and the video was shot in Alexandra, why did you guys choose to shoot the video at this specific location?
A: Well, myself and Mo-T are always in Alex. Whether its at the gym, at wonda, or atg Joe's Butcher, we there as much as we can. So the video wasn't planned to be there. Well there wasn't any plan for the video. We just threw an event there for boxers and next thing we knew we were joined by like 600 more people. So I got the film crew there and next thing we knew we had a music video.
Q: You guys scooped three awards at this year's SAMA's, how was it like when you guys heard your name being called on stage? Out of the three awards which you have won which one are you guys proud of the most?
A: Ahhhh man it's so hard describing how we felt that day! It was amazing! So thankfull and so humbled by the support! We lost all senses when we heard our names, we were just so proud! 🙂 we really wanted best group and best dance album. It defines us! But wow, winning Record of the Year… Geez. Its such a blessing! Thank u to everyone that supported us!
Q: Your latest single "la vida" is written in a foreign language, what is the story behind the song and what do the lyrics mean?
A: It's all about the beauty of life! It's a 'love' story about a guy wanting to show another girl how beautiful life is. So he goes around showing her like parties, the people laughing and smilling, and the surroundings.
Q: A question for J'Something, tell us a bit about your background and how does a young white guy like yourself get away with pronouncing zulu so perfectly in "these streets"?
A: Well I guess it's just 'Sanibonani' ? But I do speak isixhosa. Zulu just flowed for that song. I was born in Portugal and came to South Africa when I was 7 and learnt english, xhosa, and afrikaans at the same time. I try and speak as much of all the languages I know to keep them fresh, but it's hard.
Q: A question for Dr. Duda, you have been in the industry for a long time and most people I have came across have been saying that you were underrated and with Mi Casa blowing up you are finally getting the respect you deserve, Did you expect this to happen when you joined the crew?
A:Well we created this as a team and it remains a team. I've created many hits over the years, and Mi Casa for me is my focus now. Having so much fun and so thankful for it all.
Q: A question for Mo-T, your father played the trumpet for a successful crew Mango Groove, would you say that you are following his steps in a modern way? How would you describe it best?
A: I think it's fair to say that yes. I mean we are doing the same thing just modern. J would be Claire and us the band, laughs… We are also bringing white, black, and coloured together. It's the purpose of music.
Q: You guys just recently premiered a groundbreaking new 3D video for your third single 'La Vida', could you briefly tell us what the video is about and why did you decide to go 3D?
A: Well we have always wanted to be different and fresh. 3D was an idea I had with my brother, Bruno Fonseca (creative director of Mi Casa). We had this dream of doing an animated music video and this was us satisfying our dreams. We are very excited about it to be honest! The video really describes the song well.
Q: How many videos in total are you guys planning to shoot from songs in your debut album?
A: Mmmmmmm… We will see. Maybe two more
Q: Any other big projects that you guys are currently working on and what would you like to say to your fans out there?
A: Well we are working on our LIVE DVD In August so very very very excited for that. Platinum edition of the album is coming out in June. Our annual tour coming up. And many more very cool shows.