Montecasino launches 3SIXTYoLiquid Lounge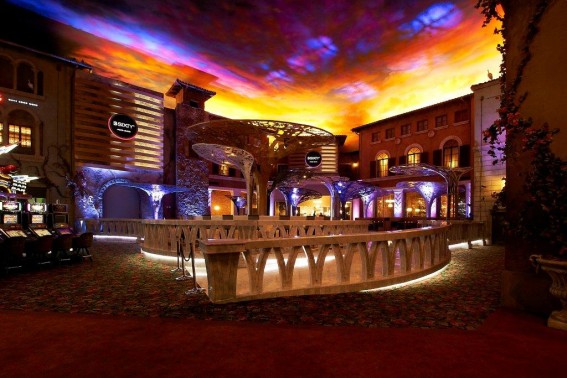 Montecasino has expanded its robust entertainment offering and is setting new restaurant trends with the recent launch of 3SIXTYo Liquid Lounge – a concept venue that promises to take patrons on a 360 degree sensory journey. Fast attracting Gauteng's over-21 socialites and the elite; 3SIXTYoLiquid Lounge encompasses a restaurant and bistro, cigar & cognac lounge and cheese & wine room. Patrons can also choose to be seated in front of the show kitchen to witness the flair, expertise and plating techniques of the highly qualified chefs.
All these elements are brought to life by the spectacular circular frost-top bar, the venues stylish design, décor and distant buzz from the casino floor. "Montecasino prides itself in being positioned as Gauteng's premier entertainment destination, by doing this, we constantly research new features that add to the experience and appeal to the broad spectrum of visitors to Montecasino." says Glenn Joseph, General Manager of Montecasino.
The 3SIXTYoLiquid Lounge menus ensure a wide variety of food and beverage items to choose from including several 'design it yourself' options. "The menus have been created to ensure a different offering for guests who may come back again and again for another unique experience. The fresh and 'one of a kind' appeal of this innovative venue comes through in all the menu offerings from gastronomically-enhanced dishes to the ultimate in palate-pleasing beverages", says Chef, Rylan Ramsamy.
With a worldwide cuisine focus, a few of the exciting entrees include lamb fettuccine with snow peas, roast plum cherry tomatoes, and parmesan shavings; wok fried tempura prawns with crisp Asian vegetables and wasabi mayo; aged Karan beef fillet with shimiji mushroom, carrot puree and beef jus. Shooters are served in test tubes with popping candy, peppermint crisp chips, candy floss, and other signature drinks such as the BullMeister where Jagermeister magically floats on Red Bull.
 "We have also included platters for sharing such as sushi, dim sum baskets, meze, cheeses, mini burgers, gourmet nibbles and more, for groups or even couples who enjoy the growing preference for sharing smaller tasting portions of different dishes, " says Ramsamy. "Our 3SIXTYo Liquid Lounge adds a unique touch to Montecasino's entertainment offering. It's certainly a venue with a difference, designed to tantalise and entice all five senses and the perfect addition to Montecasino's dynamic line up," concludes Montecasino General Manager Glenn Joseph
Facebook Comments