Duncan and Zakwe drop tracklist and cover cover-art for upcoming joint album
Two of Durban's most prolific lyricists, Duncan Skuva and Zakwe, are working on a joint album. The Mabala Noise and Afrotainment artists will join forces on a yet to be named project which is expected to be released on the 4th of December.
Read more: #NewMusicFridays: Dr. Bone Reimagines Classic In New Single "Kwazet" Alongside Zakwe
The album is a 15-tracks long and features a host of Durban based artists including Beast, Q Twins and Kay Masta. K.O, Kwesta and DJ Tira are also some of the artists who make the 12 featured artists on the album.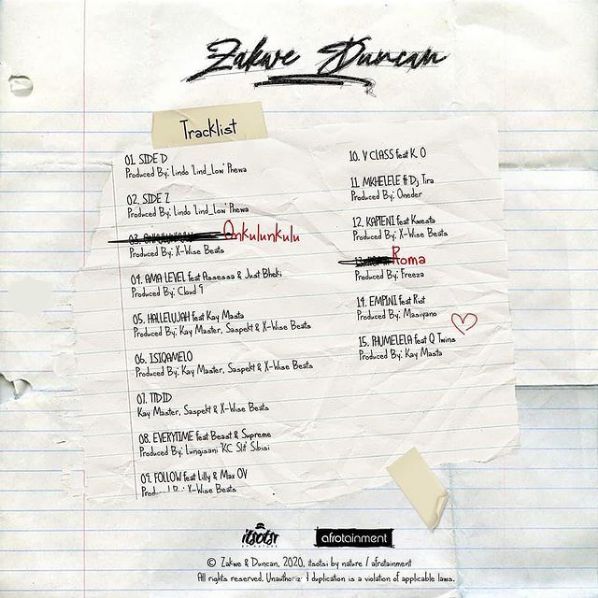 Speaking to Daily Sun in September, Zakwe explains the album is about both their journey into the music industry.
"It's a strictly hip-hop album with a kasi touch. On this album, we're talking about our journey in the music industry. We're also talking about the challenges and the highs and lows of the music industry. So far we have made 14 songs and we hope to make at least 20, but this doesn't mean all of them will make onto this album," explained Zakwe.
In the same interview Zakwe mentions that for him this album is the best Hip Hop collaboration and will take Hip Hop to the next level. If this album showcases both their skill levels as artists, then this may as well be the elevation that South African Hip Hip deserves this year.
The first single to drop from the album is AmaLevel featuring Assessa and Just Bheki. Stream it below!