Sun-EL Musician is releasing his much anticipated album, To The World And Beyond and he's planning a magnificent album release
Multi award-winning producer, Sun-EL Musician, is set to launch a one of a kind, magical virtual concert. This is ahead of his highly anticipated To The World And Beyond album release, out this Friday, 4 December 2020.
Read more: Sun-EL Musicain x Ami Faku – Into Ingawe, Goes Double Platinum
The journey will bring the constellations and planetary Stars including Msaki, Azana, Ami Faku, Simmy, Mthunzi, and many more surprise guests. They will join Sun-EL Musician in an El World Red-Box Session beyond your imagination.
Having already achieved over 7.5 million streams and holding the top album chart position while still in pre-add with favourites like Ubomi Abumanga with Msaki, Uhuru with Azana and Mandinaye with Ami Faku; Sun-EL Musician is set to have his most significant release to date.
As a buildup to his album release this Friday, Sun-EL Musician has been teasing his fans with one explosive track a day with collaborations with Kenya's Sauti Sol, Black Motion, Miss P, Mthunzi and Sino Msolo.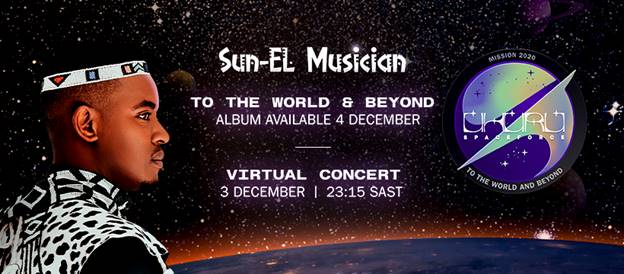 The 45 minute virtual concert will take place on Uhuru Space. Register for FREE here – www.uhuruspaceforce.com
You can pre-add/save Sun-EL Musician's To The World And Beyond album now on all major digital stores.
Stream Amasosha featuring Sino Msolo and Mthunzi below!