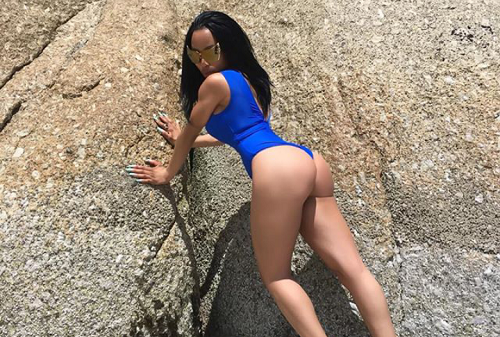 Life is good in Zanzibar! Why wouldn't it be? You have great food on an exotic island with stunning beaches and beautiful personalities abound! Strange things also tend to happen in Zanzibar! We don't know what it is about the island, but it seems to make South African celebrities want to bare their backsides for the world to admire!
After seeing Thando Thabethe's latest ZanziBum shot, we went back to look at celebrities who have perfected this pose while in the beautiful Tanzanian island! We also included a few bum pics spotted on our own beaches!
Not sure what we're talking about? Let's show you who's flexed booties we speak of!
Thando "Thabooty" Thabethe
Just recently, Miss Thabooty returned from a Zanzibar trip with her bae for her 26th birthday celebration! Besides showing us pictures of the gorgeous island, Thando went one better on us when she posted a photo of her well-toned "beach bum"!
Bonang Matheba
In true Zanzibar tradition, B also did her fans the honor while on the island, and showed her well defined "beach bum"!
Luthando "LootLove" Sosha
Lootlove, who also visited the island, wouldn't go down without her Zanzibar bum shot!
Amanda du Pont
Here is Amanda on a Zanzibar trip sometime back. And although she went mild on us, she also did the famous shot with class!
Khanyi Mbau
Khanyi is no stranger to showing SA her booty! Although not in Zanzibar here, she does nail the beach bum photo to a T!
Samkelo Ndlovu
Another celebrity not afraid to wear little and show skin as she pleases. Samkelo has also done the beach bum pose justice with her toned and super gorgeous legs!
Which "beach bum" has you talking?