AKA has vowed to keep fighting for The Braai Show but wishes Cassper Nyovest well as the new host
Former host of the Braai Show, AKA has released a statement in light of the ongoing legal battle between him, Cake Media, MakhuduCom and the SABC. The multi-talented artist and businessman has released a statement where he makes clear his position on the new show and the current status of the legal battle.
Read more: Is Cassper Nyovest The New Host Of The Braai Show?
AKA has release a statement today in light of the legal battle that had been occurring behind the scenes between him, Cake Media, MakhuduCom and the South African Broadcasting Corporation. He also mentions how difficult the process of reaching an amicable solution has been and accuses MakhuduCom of exploiting his legal representations good faith.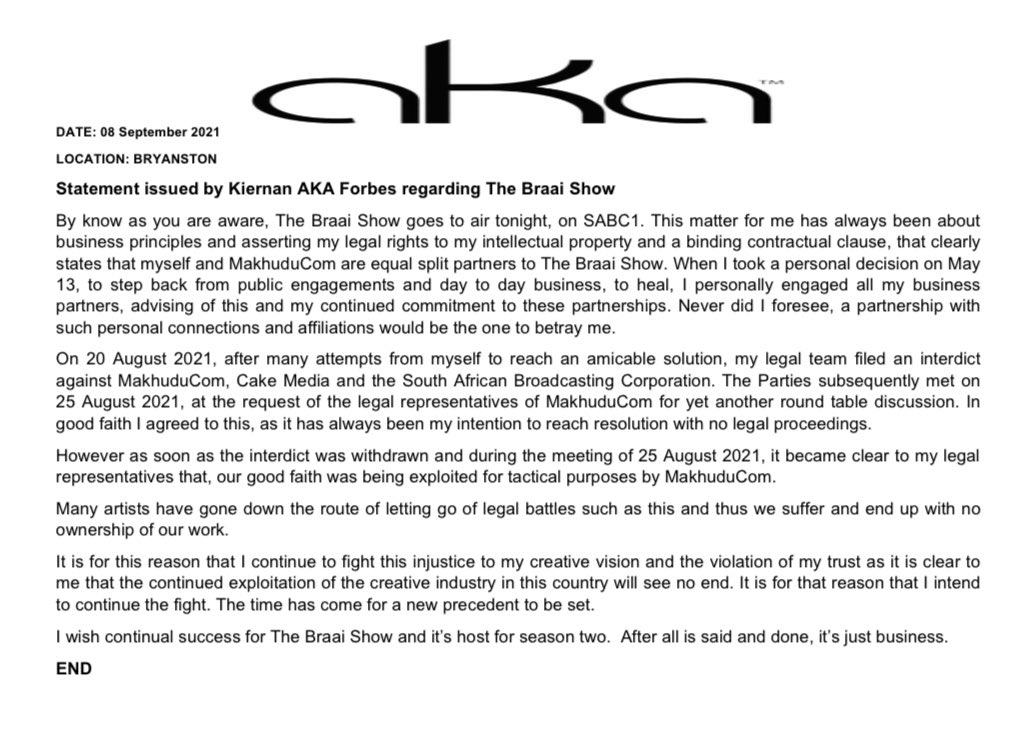 "Many artists have gone down the route of letting go of legal battles such as this and thus we suffer and end up with no ownership of our work", he says in the statement.
AKA has vowed to continue the legal fight and affirms that a new precedent has to be set in order to protect his creative vision and exploitation in the industry. "…it is clear that to me that the continued exploitation of the creative industry in this country will see no end. It is for this reason that I intend to continue the fight", he laments.
He also wished the new host for season 2, Cassper Nyovest, well for the show
"I wish continued success for the Braai Show and it's host for season 2.after all is said and done, it's just business", he ends.
The Braai Show season 2 premieres tonight on SABC 1 with Cassper Nyovest as the new host. The show will follow the same format as the first season when AKA was the host. The guests that will be featured on the show include Zozi Tunzi, Somizi and Presley Chweneyagae to name a few.
View this post on Instagram