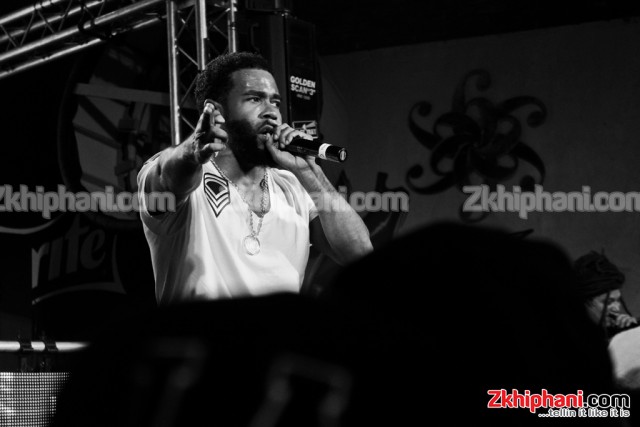 On 02 August 2014, Zone 6 in Soweto played host to a celebration of hip hop culture: the Sprite Uncontainable finale. With C-Live as MC, the event was jam-packed with everything hip hop – from live performances by emcees and dance crews to the insane NBA Memphis Grizzlies Dunk Squad, pro skateboarders and, most importantly, the contestants bringing their A-game as they battled it out.
The stage was on fire with headline international acts Pharoahe Monch and Jean Grae, local hip hop stars Revivolution, Reason, Tumi and Maggz as well as jaw-dropping performances by dance crews Artistic Intelligence and Demolition Squad.
The real stars for the night were the emcee, dance and graff finalists who went through fierce competition rounds, giving their all to be named winner.
DJ's Vigilante, Vardz, P-Kuttah, Zakes and Mr X kept the beats banging while the graffiti finalists created masterpieces for the judges, B'ballers completed a high-pressure NBA Skills challenge, and SO much more.
The NBA played a big part in the event, with the Memphis Grizzlies Dunk Squad, dancers and mascot attracting a huge crowd, along with Houston Rockets player Terrence Jones.
Competition judges Reason, Mernoly Simba and Mars were joined by Pharoahe Monch, and the public, to select the top contestants in each category – emcee, dance, graffiti, basketball as well as fan.
Fan finalists, selected from submissions of a piece of their work such as a picture or a poem, were paired up with emcee, dance and graffiti finalists who used their fans submission as inspiration for their performance at the event.
The fan finalists also played their part, promoting their finalist on social media leading up to the event.
The overall winners who walked away with the ultimate prize of a trip to New York in February 2015:
Emcee winner: Luthando Dekeni aka Lolli "skoko sase nyanga", a kwaito-inspired emcee from Nyanga East in Cape Town, now living in Pretoria.
Dance winner: Benny Chiloane, an enthusiastic, versatile and energetic dancer from Nelspruit.
Graffiti winner: Charles Keylock aka "Riot", a passionate graffiti artist from Randburg, Johannesburg.
B-ball winner: Andile Zulu, a lightning-fast basketballer from Katlehong.