Saudi touches on broken love, self-actualization and providing for his family in new mixtape, The Drip's Leaks
It is no secret that Saudi uses his music as a form of therapy. The young rapper has had a tough childhood and his music has always been a deft reflection of that. He continues this trend on his latest mixtape, The Drip's Mixtape. The Drip's Leak is a combination of songs which are both new and old. He hinted at this on social media and also announced that he will be dropping Senaone Mistape as well as his sophomore album, Japan Four later on in the year.
"Guess what? I've decided it's only right I put yourl together a mixape of some of the leaks and also a few other new records. This is my debut mixtape and the beginning of a mixtape rampage. #SENAOANE still on the way & so is my 2nd album #JapanFour
but till then issda #TheDripsLeakMixtape"
The Drip's Leak is a 13 track offering and feels a lot heavier than a mixtape. The project has major ATM Trap influences in some of the older tracks. And a more soulful and soothing sounds on some of the more recent tracks. He features his ATM stablemates, Sims, Ranks and Emtee.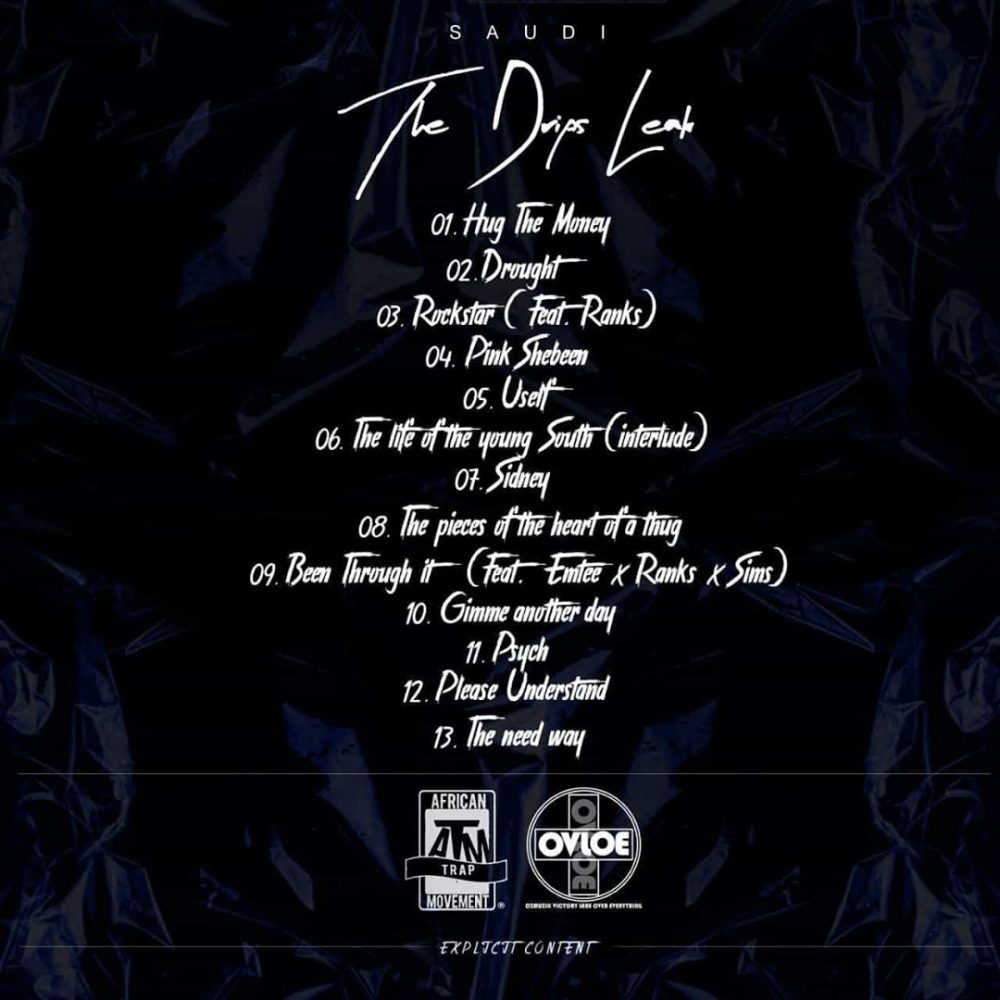 He touches on issues of broken love and broken trust on the soothing Pink Shebeen. The Pieces Of The Heart Thug is one of the more poignant songs as he sings on finding his soul again. He also touches on sharpening his character and taking care of his family on Urself. He rap raps on The Need Way, The Life Of The Young South and Sidney, something we admittedly need to hear more of from Saudi. Been Through on the other hand is a succinct snapshot of the re-imagined ATM sound.
Most of these songs sound like random ramblings but Saudi is a complex artist who is able to pen some of the most complicated emotions in the simplest and relatable way. This is the charm of his music and it is something that makes him a lot more noticeable than his contemporaries. The Drip's Leak sounds like something he needed to get out of the way before he dropped the highly anticipated mixtape, Senaone and his album, Japan Four.
The Drips Leak is available for purchase and streaming on Spotify.