SAMA VIP's receive goodies worth R2.5 million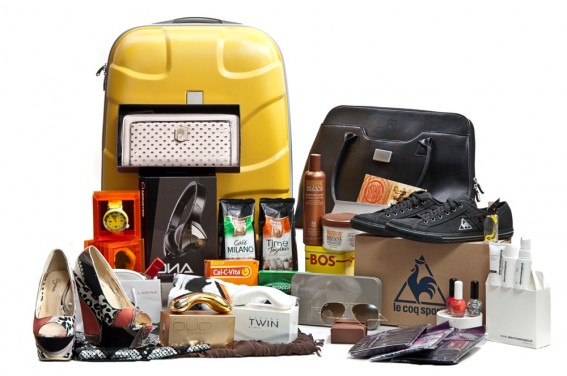 MTN SAMA 19 has pulled out the stops this year as the goodie bag is filled to the brim with desirable footwear, exclusive jewellery, luxurious make up, pamper treatments and the latest in trendy fashion to make the special guests, presenters and performers feel as exclusive as the MTN SAMA 19 Awards. At R18,000 apiece, these elite goodie bags in a specially designed MTN Y'ello case are sure to knock the specially selected music celebrities off their feet.
The goodies on offer for the guests include the latest Guess accessories, designer Ray-Ban shades, top of the range Monster DNA Headphones, a pair of irresistible Impress-ive shoes, Azzaro Fragrances, skin care products from Dermalogica, Clarins make up, hair care products by Mizani, fashionable Cult Collective T-Shirts, Douwe Egberts coffee, a special item from Elegance Jewelers, Le Coq Sportif footwear, Status ladies wear, trendy Pamela Mann Legwear, exclusive SABC laptop bags, timeless pieces of Honey Jewellery, KIA picnic blankets, fun Tip Top items, custom made USB's by Nampak, Rolling Stone magazine and T-shirt amongst other very impressive goodies. As was the case last year, SOHO Nail & Beauty Bar returns for complimentary on-site treatments and beauty consultations.
According to Lorraine Maisel of Styling Concepts, specialised lifestyle PR, press office and communications agency, who sourced the superb products for these sought-after goodies bags,"MTN SAMA 19 is Africa's largest awards show and event and it's every top brand's dream to be associated with these awards. This year's goodie bag is arguably the best we have ever put together and our guests will be pleasantly surprised by the fabulous goodies and treats in store for them from various world class brands".
Häagen Dazs, Mageu and Bos Iced Tea will be on hand to ensure that the guests are kept refreshed  in the Sun City heat with a selection of delicious ice cream, iced tea and traditional Mageu flavours to cool them down. Cal C Vita and Berroca will also be on hand to ensure that the partying does not take its toll on the fabulous guests, while Tomato Watches will guarantee they are always on time. The recipients will also receive a voucher for fine dining at the fabulous KOI restaurant in either Johannesburg or Pretoria. The main MTN SAMA 19 awards ceremony, which takes place at the Sun City Superbowl will be televised live on SABC1 from 8pm on Saturday, 11 May 2013
Facebook Comments