Podcaster, Rea Gopane in hot water again after he made shocking allegations against Mr JazziQ
Popular Amapiano DJ and producer, Mr JazziQ has taken legal action against podcaster, Rea Gopane. The Woza hitmaker released a statement across his social media accounts announcing his pursuit of legal and civil action against the podcaster and his podcast, Everything SA Music.
Read more: Watch: Mr JazziQ's Viral Video Of Awkward Moment With Fan Raises Important Questions About Consent
On the podcast, Rea Gopane claimed that Mr JazziQ "sacrificed" Mpura and Killer Kau to advance his own career. Saying that immediately after the two stars passed away, Mr JazziQ bought a car and things started happening in his career. Both Killer Kau and Mpura feature on the music video for Mr JazziQ's hit single, Woza.
"Think about it… That Woza music video. It came out after everything happened. Why is Mpura and Killer Kau in the music video when they are not featured on the song?" The day after they died, he left. He went to Ghana… I'm just saying that we are not reading in between the lines," Gopane mentions.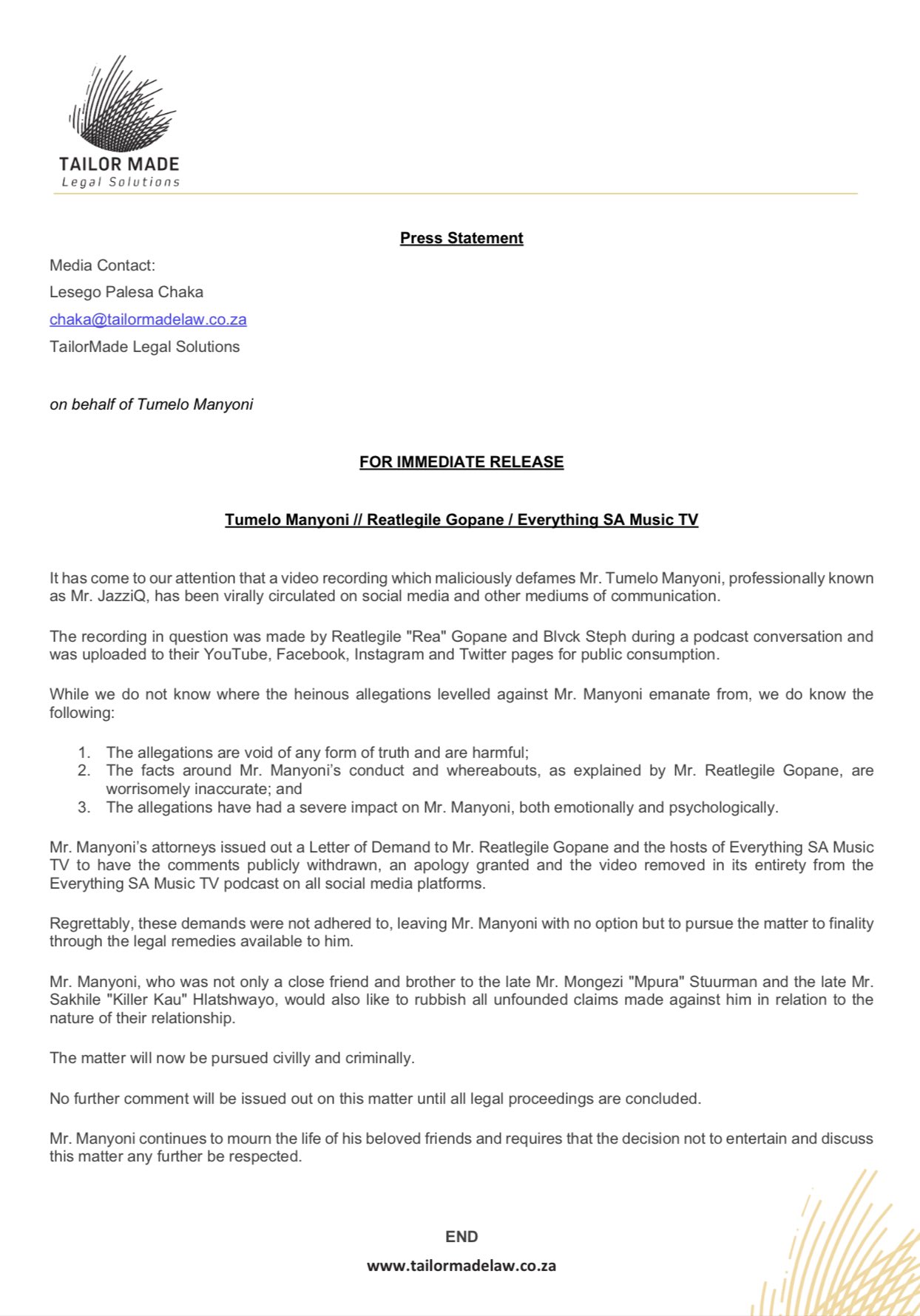 Mr Jazziq released a statement condemning these allegations and announced that he is launching legal action against Rea Gopane
Mr JazziQ responded with a cryptic threat that Rea must start praying but also went the legal route. A statement he released through Tailor Made Attorney's strongly rebuked the allegations made against him.
"Mr Manyoni's attorneys issues a Letter of Demand to Mr Reatlegile Gopane and the hosts of Everything SA Music TV to have the comments publicly withdrawn, an apology granted and the video removed in its entirety from the Everything SA Music TV podcast on all social media platforms.
Regrettably, these demands were not adhered to, leaving Mr Manyoni with no option but to pursue the matter to finality through the legal remedies available to him," the statement read.
This is not the first time that Gopane has been in trouble. In May 2021, he faced a 500k lawsuit from Bonang Matheba. He claimed that Matheba introduced her ex-boyfriend AKA to cocaine. Gopane claimed that television presenter Scoop Makhatini told him that.
Gopane has not responded to the statement yet. What are your thoughts?