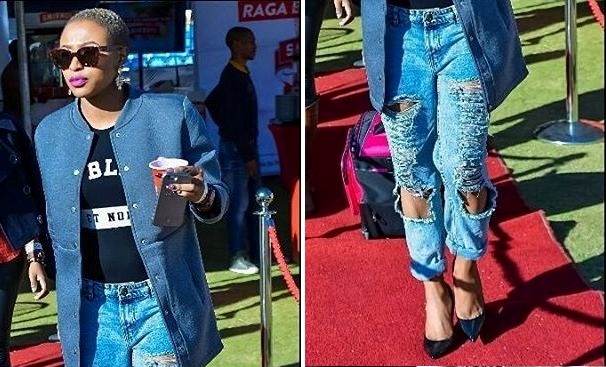 It's Wednesday and as always, you know we'll be giving you an entire day's fix of fashion and beauty! In our Steal the Look feature today, we help you replicate this fabulous look worn by DJ Zinhle! Zinhle, who is always fashionable and stylish, never disappoints in the fashion department, so we hope you love stealing this casual outfit from her!
The good thing about this DJ Zinhle look is that many of us will already have some of these items in our closets, so the look should not be too heavy on the pocket!
Coat
Copy Zinhle's look with this grey Mandarin Collar coat from everyone's trusted clothing retailer, Mr. Price. It's a steal for R269,99.
Jeans
If you don't already have these distressed boyfriend jeans in your closet, don't worry because you can get yourself a pair at MRP for R199,99.
Top
DJ Zinhle opted for a black statement t-shirt under her coat! There are, however, many other options you can take to add your own personality and style to the look!
Why not try a bodysuit as your t-shirt alternative? This black one can also be found at Mr. Price for R79,99.
If "bodysuiting" is not your thing, then why not slip into this simple crew neck top also from MRP for R49,99.
If you really must go the statement t-shirt route and don't own one already, here's one from MRP, which goes for R69,99. This one is not so exciting, so we're sure you can find many other dramatic options at any major retail store!
Shoes
Get chic and comfy shoes to complete your DJ Zinhle look! These cute heels can be found at Jet Stores for R179,99.
Accessories
If you're all about twinning this look, then also pick up a pair of these oversized tortoise-shell framed sunglasses; again from Mr. Price at R49,99!
And that, ladies, is how you get your fierce, DJ Zinhle style on!
So, will you be trying this look out? Let us know!